Greenest inland vessel in whole of Europe debuts Damen group innovations
In early February Damen Shipyards Group was able to launch the very first LNG-powered Damen EcoLiner inland shipping tanker at its yard in Romania. The EcoLiner's aim is to deliver the much-needed cut downs on fuel expenses for inland shipping operators while also managing to cut down on emissions. The EcoLine's design offers a swift combination of conventional, proven engineering along with sustainable innovations, which include the first ever installation of the ACES Air-Lubricated Hull, a gas-electrical shaft propulsion system, as well as one of the first Van der Velden® FLEX Tunnel installations.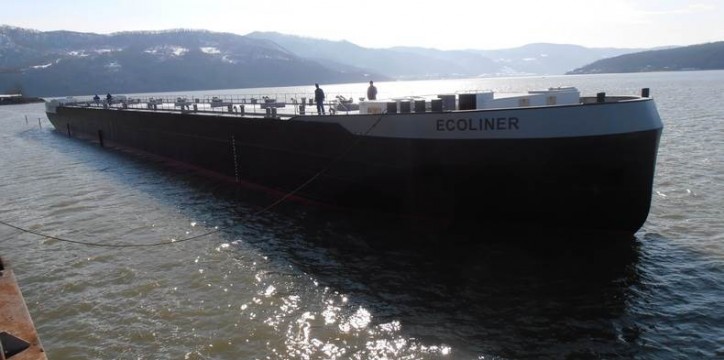 The innovative ship manages to cut down on fuel costs by up to roughly 25%. Keeping its ambitious goal of greening the transport sector, the European Union has provided funds in a co-finance effort for the project from the Trans-European Transport Network Programme. The funding itself amounts to more than €1.1 million as part of the project "LNG Masterplan for Rhine-Main-Danube".
Damen recently wrapped up the tank testing procedures of the new design that were carried out at the MARIN research institute, which fully confirmed the EcoLiner's efficiency. Simon Provoost, Product Director Inland Waterway Transport at Damen Shipyards, has commented that the tests regarding the design, which combines multiple innovations, were very important in providing the necessary confidence for Damen to offer the 3,040 m3 capacity EcoLiner to the market.
"After completing all required tests successfully at MARIN, we are now able to completely finish the build in the Netherlands and we are also in the midst of talks with a number of parties that have shown interest. Fuel makes up for a significant proportion of the inland shipping costs, so if operators are provided with an option to save 20% or even more, it is only natural that a lot of interest generates."
How the EcoLiner manages to reduce costs as well as emissions
"The EcoLiner's every part has been designed so that it could contribute to the reducing of the total fuel consumption," Provoost further added. "Combine that with low-emission LNG instead of marine diesel, and you get the EcoLiner which is without a doubt the greenest inland shipping vessel in the whole of Europe. It is becoming increasingly important for both owners and clients to demonstrate sustainable operations and gear up for future potential 'green corridors' that will be the object of many inland emissions regulations."
A list of the EcoLiner's top innovations:
• ACES air lubrication has displayed roughly 15% of fuel savings
• First ever vessel to successfully combine a gas-electric propulsion system with a trusted, low-maintenance shaft propulsion configuration
• Clean LNG fuel manages to greatly reduce CO2, SOX, NOX and particulate emissions
• Power management system for 4 x LNG fueled generator sets double checks optimum engine loads and reduced fuel consumption upstream and downstream
• Retractable Van der Velden® FLEX tunnels reduce resistance, as well as provide further options for the installation of bigger high efficiency ducted propellers
• Optional waste heat recovery system for the heating or cooling of both cargo and accommodation
Source&Image: Damen