The brand new RV Kronprins Haakon has been scheduled to begin regular science cruises in 2017, with Kongsberg Maritime providing a full hydroacoustic systems package. The vessel will be the first ever Norwegian icebreaker constructed for Polar research operations.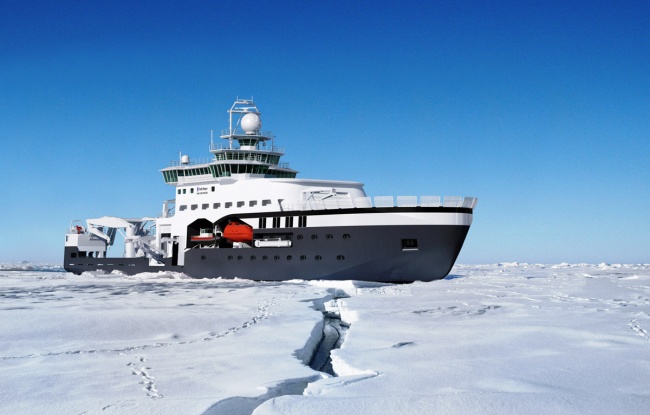 Photo: Rolls Royce
Shipbuilder Fincantieri has chosen to go with a combined delivery of Kongsberg Maritime survey technology, featuring a vast range of Simrad scientific research systems for the purposes of the Kronprins Haakon. The company is going to also supply the vessel with a K-Bridge system in order to comply with all of its navigation needs.
The vessel has been scheduled to enter its construction phase later on in June of this year, with operations appointed to be carried out in Italy. The ship it to be property of the Norwegian Polar Institute and its operator is going to be The Institute of Marine Research (IMR). Tromsø, Northern Norway will serve as its homeport, where The Arctic University of Norway (UiT), which is its 3rd and biggest user, is based.
The Kongsberg line of supply is able to cover a wide array of both deep and medium depth multibeams designed for bottom mapping purposes, such as the EM 710, EA 600 and EA 302, all the while systems like the TOPAS and SBP300 can be employed for looking at sub bottom structures. All position reference –related aspects will be covered by the HiPAP 501 platform. Additionally, along the lines of the delivery comes along the Kongsberg series of Simrad scientific systems that feature omnidirectional sonars SH90, scientific multibeam systems MS70 and ME70, a new EK80 wideband single beam system as well as the new SU90 platform which is able to detect and track biology around the ship for several kilometers. Kronprins Haakon is also going to be equipped with the Simrad FX80 trawl monitoring system, that will provide it with a live camera feed from the ship sampling trawl, as reported by Kongsberg via a press statement.
The ship features two retractable keels that provide the security necessary for achieving an optimal acoustic environment. The keels, however, can't be deployed if the ship is breaking ice. Thus the vessel is also equipped with the complete EK80 system set, which is integrated in the ice protected artic tanks, in order for all the information to be safely stored when the ship is tasked to operate in conditions of ice.