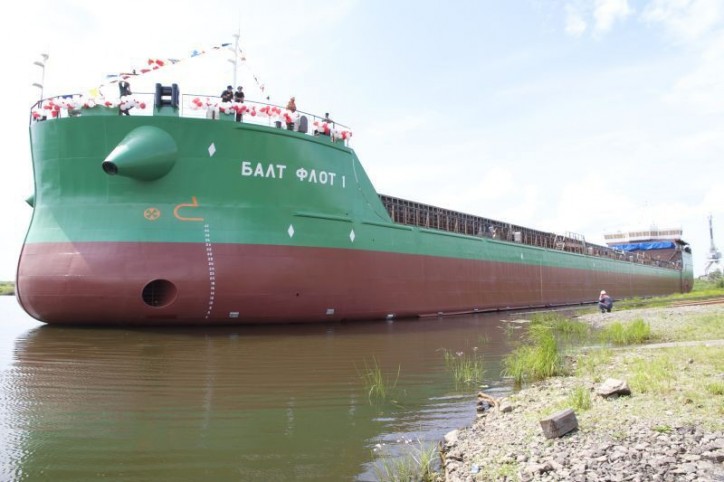 The mixed river-sea type Balt Flot 1 Volga-Don max combination bulk oil/deck cargo carrier vessel has been included by the Royal Institution of Naval Architects that is RINA, UK into its Significant Ships list, as reported by the Marine Engineering Bureau.
The experts over at RINA only considered lead vessels that became operational during last year.
The Balt Flot 1 is a combination bulk/oil deck cargo carrier vessel that was constructed in 2014 along the lines of the project RST54 (Hull №5401) by Okskaya Sudoverf (Shipyard Oka). The ship was ordered by Saint Petersburg –based Balk Flot Tanker that engages in cargo shipping operations by sea/rivers and offers logistic services.
The vessel's deadweight sits at 5,745 tons and it has a 3.60-meter draught (river), which happens to be a record-breaking figure when regarding Volga-Don Max class vessels.
The all new concept comes along with an increased level of carrying capacity due to the vessel's maximum length and breadth, as well as to the extremely full lines that have never been applied prior to this unit.
Project RST54's combined carrier vessels guarantee loading for both directions (one way for transporting oil cargo and another way for carrying dry cargo). It is possible to decrease the load on highways by transporting passenger cars which have commonly been transported from Saint Petersburg to the central part of Russia via car carrying trucks. They also have the ability to transport containers that have a weight that exceeds the allowed limit for highway transportation.
Volga-Don Max class vessels of the RST54 project meet the Volga-Don Ship canal dimensions as well as those of the Volga-Baltic Waterway. LOA - 140.85 meters, beam - 16.6 meters, depth – 5.0 meters. Russian Maritime Register of Shipping Class - M-ПР2,5 (ice30) А. Crew - 12 passengers (14 places + pilot), with 20-day sea endurance.
The vessel's 10 respective cargo tanks have a 5,446 m³ capacity with 2 slop tanks of 207 m³. The structure is compliant with all MARPOL 73/78 requirements.
It has cargo pumps with a 2 x 300 m³/h output and offers 1,200 m³/h of loading speed.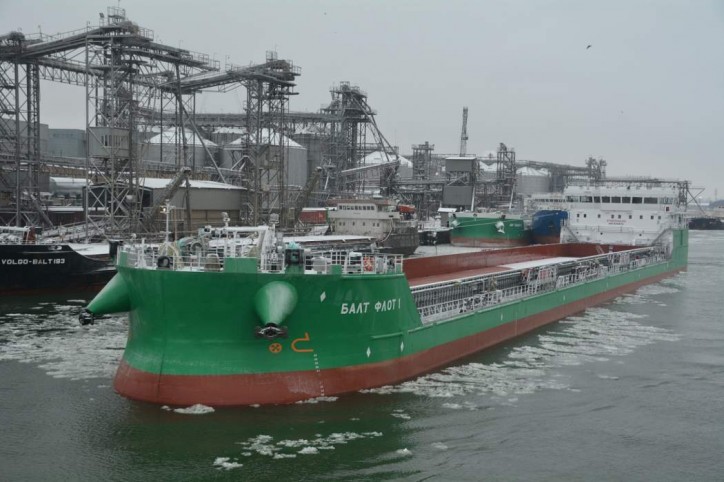 Photo: BF Tanker
The vessel's cargo tanks can be employed for transporting petroleum products with the level of flash point temperature exceeding 60°C. The ship's respective heating system features a pair of 2.5 t/h steam-boilers.
The ship's cargo deck can carry cargoes of rolled steel; crushed stones, FEU and TEU containers of international standard; cars and other various types of general and bulk cargoes that can be exposed to water.
It has a pair of 1,200 kW Rudder propellers (IFO380) and a 230 kW bow thruster. The vessel's speed at a 3.60-meter draft and MCR of 85% has been measured to be 11.0 knots. The characteristics of its auxiliary diesel generators along with those of its emergency diesel generator are – 3x296 kW and 62kW.
Related news: Balt Flot 1, Unique platform-tanker vessel launched