On August 13th, 2015, the US leading carrier in the Pacific, Matson Inc, took delivery of a new 65-ton gantry crane.
The new crane at the Matson's Terminal in the Alaskan Kodiak Port will replace the current one, which is one half smaller than the new replacement.
Matson's new crane, which stands 340 feet tall, with a boom spanning 164 feet, is now the largest in Alaska. The new port machinery is capable of lifting loads up to 60 feet long and weighing up to 145,000 pounds.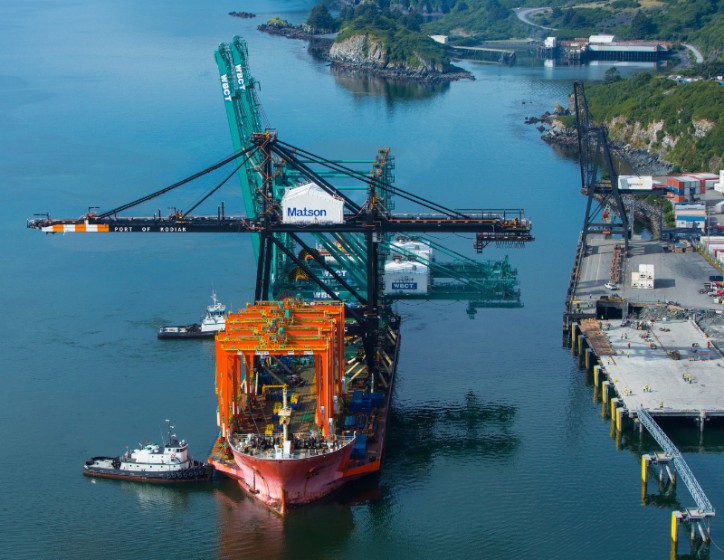 Image: Matson
The electrically powered crane will use a renewable energy, produced by a flywheel technology, which captures, stores and then returns power as needed for the crane's operation. The electricity for all its state-of-art industrial equipment will be provided by the Kodiak Electric Association, which uses wind and water turbines to generate 99.9 percent of its power.
The $10 million crane is part of Matson's modernisation program, which includes a number of investments that the company is making to improve the services and capabilities of its Alaska operations.
Matson has also purchased new ground equipment and ordered a fleet of new dry and insulated containers for use in Alaska.
For the three former Horizon D7 Class vessels, currently operating in Alaska, the company has scheduled work to install new exhaust scrubber systems. From September this year, each one of the vessels will enter into dry dock for three months, one after another.
The Matson's investment program follows this year's acquisition of Horizon Lines' Alaska operations for $469 million by Matson, which closed on May 29, 2015.