French shipyard CMN has released a video showing its Ocean Eagle trimaran patrol vessel during sea trials in extreme weather conditions (Sea State 5). Thanks to its design, the Ocean Eagle 43 demonstrates exceptional stability. CMN confirmed in September 2013 the signing of a major export contract with Mozambique. The contract includes the delivery of three Ocean Eagle 43 trimaran patrol vessels, three HSI 32 interceptors and eighteen fishing vessels for a total of twenty-four ships.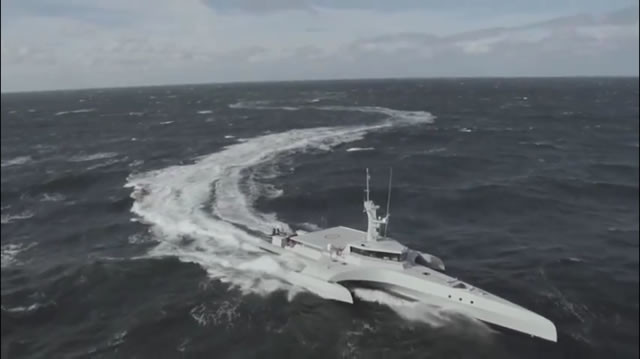 Image: CMN

According to the French shipyard, The Ocean Eagle 43 is a revolutionary concept with exceptional performance designed to meet the needs of maritime surveillance and security. It is the result of a fruitful collaboration between CMN, naval architect Nigel Irens, ProLarge and SeaTeam Aviation companies, two small businesses specialized in logistics and operational projects at sea.
The Ocean Eagle 43 is a compact high-performance multifunction vessel that is suited to protect coastal areas, strategic offshore infrastructures. It can also conduct electronic warfare and intelligence missions through the use of 300 Kg class VTOL UAV (such as the SCHIEBEL S100 Camcopter).
The first Ocean Eagle 43 is set to be delivered to the Navy of Mozambique in early 2016 following training of the crew. While the vessels for Mozambique will be delivered without weapons, the Ocean Eagle 43 may be fitted with self-defense capabilities consisting in a 20 mm or 30 mm remote weapons station plus two 12.7 mm machine guns with 360° coverage. A ramp at the stern allows the rapid deployment and recovery of a 7 meters RHIB.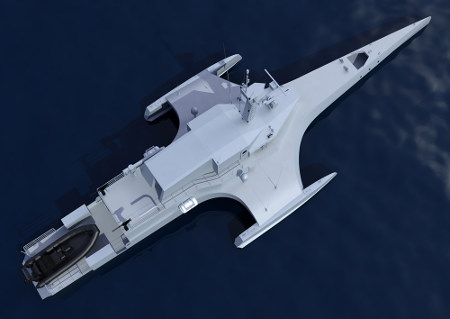 The OCEAN EAGLE 43 offers an unmatched cost to performance ratio:
» 3,000 nautical miles autonomy at 20 knots;
» Top speed of 30 knots sustainable over a distance of 1,000 nautical miles;
» Limited crew of 7 sailors;
» Accommodations for 8 additional Special Forces;
Source: navyrecognition.com