The Barbados-flagged cargo ship Crown Emma ran aground late on Tuesday (Nov 24) near Istanbul's Kirecburnu neighborhood on the eastern side of the Bosporus, the Turkish Directorate General of Coastal Safety announced.
According to the directorate, the grounding was caused by a steering gear failure. After the incident, the crew confirmed that the ship had been unable to maneuver to prevent the grounding. The crew also told the press that the vessel had suffered minor damage to the hull below the waterline and might need repair work.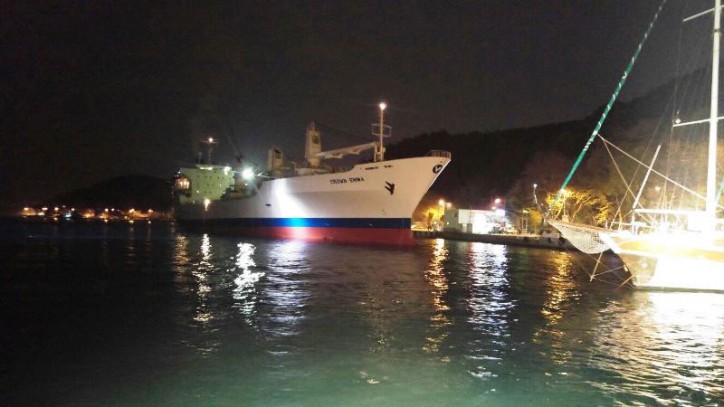 The ship is currently awaiting an underwater inspection and then will be refloated. Traffic through the strait is continuing.
The reefer cargo ship was en route from port of Varna, Bulgaria to Algeciras, Spain. The vessel is managed by Swedish company Amalia Shipping.
The Crown Emma is 152 meters long refrigerated cargo ship, its molded beam is 23 meters and its maximum draft is 6.4 meters. The deadweight of the vessel is 10,351 DWT and the gross tonnage is 10,519 GRT. The cargo ship was built in 1996 by Iwagi Shipbuilding in its shipyard in Kamijima, Japan.
Despite the use of the latest technology to monitor ships, the passage of huge tankers and the fact that hiring a maritime pilot is optional increase the possibility of accidents in the Bosporus Strait, one of the busiest waterways in the world.
According to experts, there are 12 turning points in the 31-kilometer-long strait and at four of them tankers cannot be seen from the other side due to blind spots, which result in heightened risk of an accident.
Approximately 52,000 ships pass through the Bosporus each year and around 400 accidents have taken place in the strait since 1936.
Source: todayszaman.com