Euroseas Ltd. (NASDAQ: ESEA), an owner and operator of drybulk and container carrier vessels and provider of seaborne transportation for drybulk and containerized cargoes, announced yesterday certain developments related to its newbuilding program.
The Company announced that it has signed an addendum to its shipbuilding contract with YJZ yard for the construction of Kamsarmax vessel Hull Number YZJ 1153 scheduled to be delivered during the first quarter of 2018. According to the addendum, the Company acquired the option until December 31, 2016 to decide whether to build the vessel, or build a vessel of different type, or credit the payment already made as part of the original contract ($2.77m) to acquire a different vessel from the yard at a mutually agreed price, or decide to cancel the shipbuilding contract without any additional cost.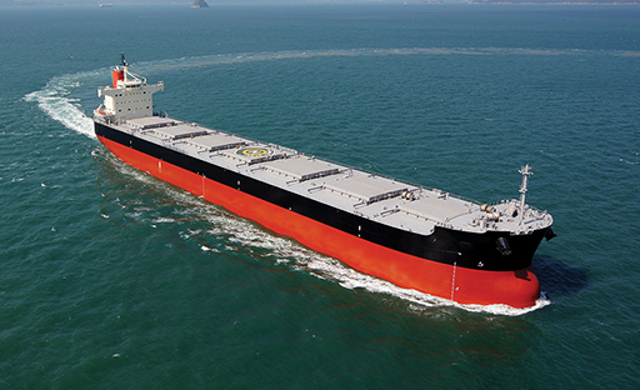 Kamsarmax vessel - Image for representative purposes only
The Company took delivery of a similar Kamsarmax vessel, M/V Xenia, in February 2016. M/V Xenia has been chartered for four years at $14,100/day with an additional year at $14,350/day at the charterer's option.
The Company also announced that the first of its Ultramax vessels, Hull Number DY 160 (planned to be renamed ALEXANDROS P), under construction at Dayang yard and originally scheduled for delivery in the second quarter of 2016, was cancelled due to excessive construction delays. The Company has demanded the return of its progress payments and other expenses as specified in the newbuilding contract and secured by refund guarantees. The parties have referred the matter to arbitration. The Company has a second newbuilding contract for a similar Ultramax vessel, Hull Number DY 161, with the same yard which is also facing significant delays.
About Euroseas Ltd:
Euroseas operates in the dry cargo, drybulk and container shipping markets. Euroseas' operations are managed by Eurobulk Ltd., an ISO 9001:2008 certified affiliated ship management company and Eurobulk (Far East) Ltd. Inc. which are responsible for the day-to-day commercial and technical management and operations of the vessels. Euroseas employs its vessels on spot and period charters and through pool arrangements.
The Company has a fleet of 11 vessels, including 3 Panamax drybulk carriers, 1 Handymax drybulk carrier and 1 Kamsarmax drybulk carrier, 2 Intermediate containership, 2 Handysize containerships, 2 Feeder containerships. Euroseas 5 drybulk carriers have a total cargo capacity of 351,272 dwt, its 6 containerships have a cargo capacity of 10,086 teu. The Company has also signed contracts for the construction of one Ultramax (63,500 dwt) fuel efficient drybulk carrier and one Kamsarmax (82,000 dwt) fuel efficient drybulk carrier. Including the two new-buildings, the total cargo capacity of the Company's drybulk vessels will be 496,772 dwt.
Source: Euroseas