Royal Boskalis Westminster N.V. (Boskalis) has made an announcement that Dockwise, a wholly owned subsidiary, has managed to successfully load the ENI Goliat FPSO (floating production, storage and offloading ship) onboard its biggest heavy transport vessel as it prepares to head to Europe, the company stated in a press release.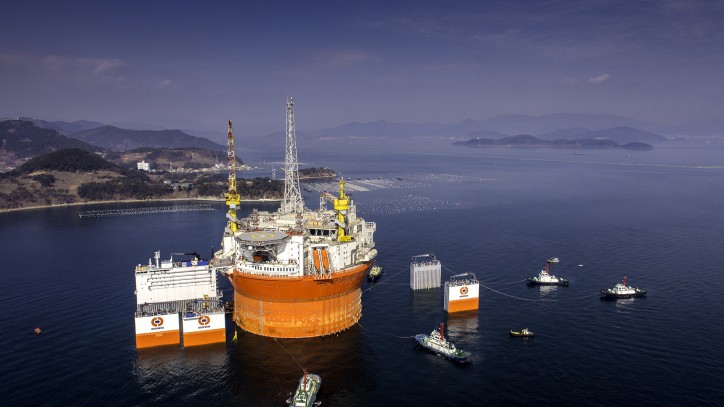 Image: Eni Norge

The vessel was loaded in Geoje, South Korea. During the loading process, the Dockwise Vanguard's deck was submerged in order to successfully receive the cargo. The Goliat FPSO is property of ENI Norge and was built by Hyundai Heavy Industries (HHI) shipyard in South Korea. ENI Norge is also the current company that is going to operate the ship.
The Goliat, which has a diameter of 107 meters, is the biggest cargo ever loaded onboard the Dockwise Vanguard as of this moment. Plans are for the cargo to be transported around Cape of Good Hope, Africa, and to then be offloaded in Northern Europe.
After completing the delivery of the Goliat, the Dockwise Vanguard will be appointed to Rotterdam, The Netherlands, in order to begin preparations for its following assignment. On behalf of Bumi Armada Offshore, Dockwise will be tasked to transport the Armada Intrepid FPSO, (formerly known as BP Schiehallion) from Rotterdam to the Far East. The 42,000 MT FPSO is 245 meters long and 45 meters wide, and will be the first vessel shaped FPSO ever to be transported via the Dockwise Vanguard.
The Dockwise Vanguard is a one-of-a-kind ship that is able to transport extraordinary large assets. As the biggest semi-submersible heavy-lift carrier in the world, she offers a never-seen-before capability regarding the transporting of fully-integrated offshore structures and units, and that includes FPSOs. The Dockwise Vanguard's load capacity is over 110,000 tonnes, and is accommodated on an open-end, free deck space of 275m x 70m. Given the fact that she has no raised bow and no conventional forward superstructure both forward and aft cargo overhang are possible. The ship went operational back in February of 2013.