According to information given by the Italian Navy on Thursday, the sunken migrants boat causing the dead of nearly 900 people off the Libyan Coast in the Mediterranean sea most probably has been found.
After the deadliest migrant tragedy only 24 bodies have been recovered from the sea waters. What is believed to be the migrants boat wrecks were discovered 135 km (85 miles) north of Libya in 375 meters depth (1,235 feet) under the sea level. Marine authorities believe this would increase the chance of finding more remains after the tragedy.
Italian search teams, using sonar instruments and a submersible equipment in two minesweepers and a smaller navy vessel, located the hulk of a 25-meter blue boat. The description of the debris corresponded to the deadly sunken boat.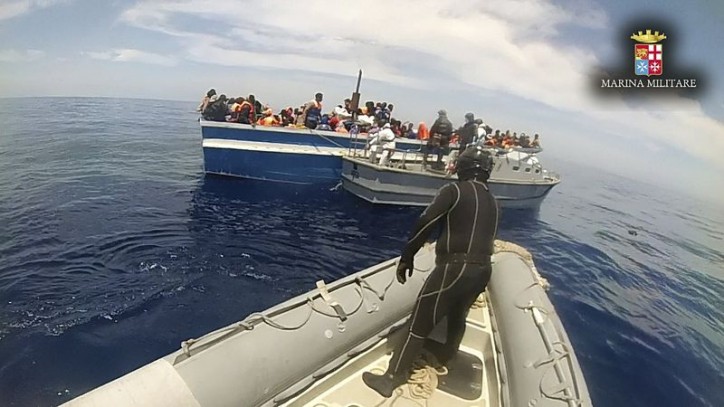 A spokesman of the Italian Navy said:
"The location and length are correct, but we cannot be certain."
The political chaos in Libya, where two opposing governments are trying to take the control over the country, has given almost free rein to human-traffickers. Two migrants among the survivors in the sea accident were arrested and brought into custody in Sicily Island last month on suspicion of human trafficking.
Survivors witness testimonies confirmed that more than 750 people were on board of the deadly boat, many of them locked in the hold of the vessel. According to other reports, the suggested amount of people on board could be more than 900. Only 28 people were rescued in the accident.
After the sea tragedy and the huge number of deaths, the European Union tripled the funding for its Triton patrol mission replacing the Italy's Mare Nostrum broader mission.
Statistics show that 51,000 migrants have reached Europe by sea since the beginning of 2015. According to the U.N. refugee agency, about 30,500 people passed the Mediterranean via Italy.
The good weather conditions and the calm sea of the coming summer have encouraged thousands of migrants to take the risk last weeks to pass across the sea.
Reports from the last few months confirm that from the beginning of the year, approximately 1,800 people so far are presumed drowned in the Mediterranean sea.
In the latest migrant sea accident survivors from a group of nearly 240 migrants, who were transferred to Sicily (Italy) on Tuesday, said that they had been travelling with other 40 people, who had drowned.
Related news:
Italian police arrests two suspects from 27-survivors migrants group
Hundreds dead as smuggler's boat capsizes in the Mediterranean