During sea trials in the Gulf of Mexico, the subsea construction vessel Lewek Constellation of EMAS AMC set an industry pipelay record.
The 632 mT tension recorded was the highest tension ever experienced in the history of rigid reeled-lay operations.
EMAS AMC is the subsea division of EMAS. It is the leading global offshore contractor and provider of integrated offshore solutions to the oil and gas (O&G) industry.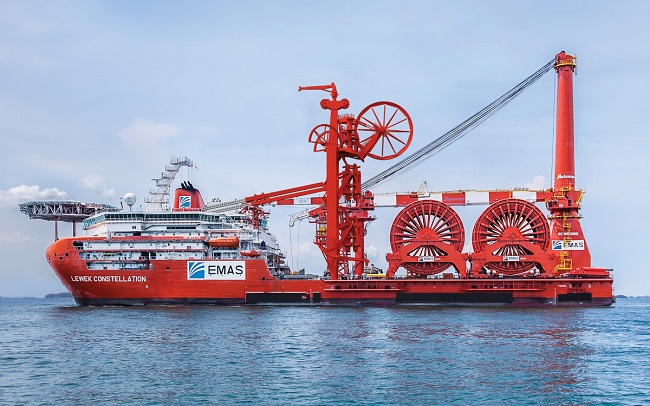 Image: EMAS
The company announced that the achieved work result of its construction vessel, Lewek Constellation, is an industry record for pipelay in the U.S Gulf of Mexico (US GOM).
The Lewek Constellation record was set in the Gulf of Mexico in 7,368 feet (2,246 metres) of water during her sea trials.
****
The final pipe lay operations of Lewek Constellation in the Gulf of Mexico were part of the preparation for the execution of three subsea tie-back projects for Noble Energy in the Gulf of Mexico.
Lionel Lee, the EMAS AMC Chairman, said:
"Successfully laying the test pipe at this record-breaking top tension during pipelay trials is a significant achievement for EMAS and an industry first. It's a testament to the experience and expertise of our people combined with the quality of our new vessel built by EMAS Group's subsidiary TRIYARDS in Vietnam. I want to acknowledge the hard work and dedication of our integrated project teams in preparation for this important milestone."
John Meenaghan, the Global Operations Vice President commented:
"What this record means for clients going forward is that we can offer a more efficient pipelay solution in ultra-deep water for pipelines up to 16 inch in diameter, when compared to traditional S-Lay or J-Lay methods, even with thick insulation coatings, thereby giving our clients more options to consider."