In the evening of December 11, 2015, a fire broke out in the superstructure of the 519-foot freighter Alpena.
According to Bay Shipbuilding Co. vice president and general manager Todd Thayse, the ship was in the yard for a two-week inspection. It was in dry dock since December 5 for its five-year maintenance inspection, Herlache said.
Image by: Brian Wroblewski
Firefighters were called at 6 p.m.local time. First units on scene reported heavy smoke coming from the stern of the vessel.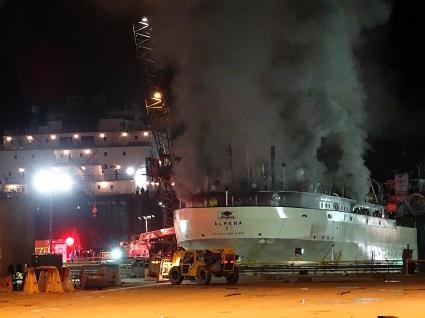 At least 100 firefighters from nine fire departments all across Door County were at the Scene. They used water to put out the fire and used an aerial truck to get water up onto the ship. The dining area, the cafeteria and some staterooms on the ship were all heavily damaged by the blaze.
The investigation into the cause will begin once the fire was extinguished and the interior was ventilated.
Firefighters remained on scene overnight and vacated the scene early Saturday morning.
Source: doorcountydailynews.com