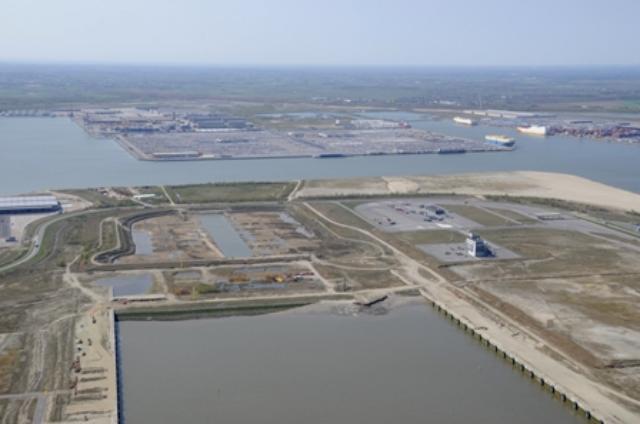 The four gates designed for port of Antwerp's Deurganck dock lock will officially head on their way from China at the beginning of next month.
The gigantic gates are currently being manufactured by the Chinese ZPMC steel constructor, along with the trolleys on which the gates will ride, two combined road/rail bridges, the caisson and other various items intended for the port of Antwerp.
A ceremony was held on Wednesday March 18th in the Chinese city of Changxing to mark the construction work's official completion. Among the notable figures that attended the ceremony were Freddy Aerts, Maritime Access department Chief (Flemish government), Luc Arnouts, Deurganck Dock Lock Company director as well as Port Authority Chief Commercial Office, and Eric Beyts from the Waasland Lock construction consortium.
Mr. Liu Jianbo, ZPMC vice-president, pointed out in his speech all the hard work that his company has put in this project since 2011. For ZPMC, which is known all over the world for constructing gantry cranes, this current project represents a new chapter regarding its offshore engineering activities.
"And of course we have high hopes that the bridges that we are building physically are going to contribute in a metaphorical sense to the mutual understanding between the Chinese and Belgian people," he also added.
Although, the lock gates have the same length and thickness as those of the Berendrecht lock, the Deurganck dock lock is going to be 4 m deeper in order to be able to handle the large vessels that are currently coming into operation. This means that the four gigantic lock doors are going to have dimensions of approximately 70 × 11 × 27 m (LxWxH) and will have an individual weight of 2000 tonnes.
The loading process of the gates and ancillary equipment on board the Zhen Hua 15 vessel, that is scheduled to transport them to Antwerp, started on March 3rd, and if all goes accordingly the outsize load should arrive at the port eight weeks later. Manoeuvering the lock gates into position is going to be a tasking operation and expectations are that it will take up two weeks at minimum for it to be completed.
The Deurganck dock lock steel construction work was contracted out by the Waasland Lock consortium to ZPMC, which is one of the world's biggest gantry crane manufacturers. Since the worldwide recession, which also heavily effected the shipping industry , ZPMC has managed to diversify into the building of civil engineering structures. The company now constructs bridges and other various structures for clients all around the world. The company has a wide variety of construction equipment along with a 5 km quay and its very own fleet via which it is able to transport the steel structures to its clients. According to estimates ZPMC currently employs 30, 000 people.
Source: Port of Antwerp