The US Navy has come out and announced the launching of its newest Arleigh Burke-class (DDG 51) Aegis guided missile destroyer. The John Finn (DDG113) was officially made operational for service at Huntington Ingalls Industries' (HII) shipyard.
This brand new vessel serves as the 63rd DDG 51 destroyer, but it is, however, the very first of the DDG 51 Flight IIA restart ships. The John Finn was keel laid back in November of 2013.
"This new ship is the first of the DDG 51 class to be launched in what's been close to four years, and we are as much proud as we are excited of the programme's steady progress," commented Captain Mark Vandroff, who is also the manager of the US Navy DDG 51-class programme.

"I welcome John Finn among the lines of the fleet and hope that the other ships of her class will serve as a continuation of the legacy of success that we have managed to establish over the years with the Arleigh Burke destroyer," he further added.
HII is going to continue the outfitting process of the John Finn as the yard prepares to honor the agreed upon date of delivery to the navy that has been scheduled for Q3 of 2016.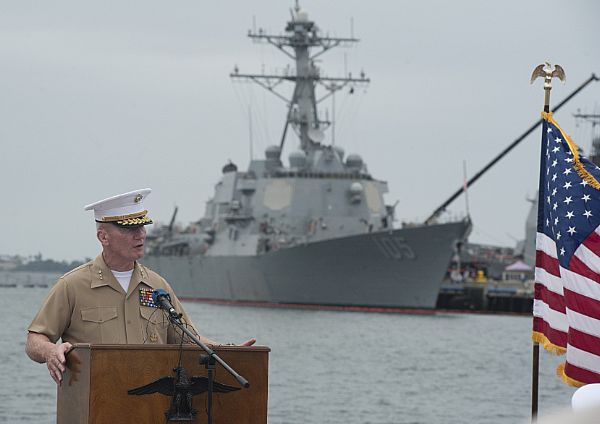 The Aegis combat system and the SPY-1D multi-function phased array radar are to be incorporated into the DDG 113 vessel's equipment. The ship itself is going to undergo its Aegis system light off later on this current year.
The christening ceremony for the destroyer is to be held on the 2nd of May. During the ceremony the vessel will be named after a recipient of the Medal of Honor.
The Arleigh Burke-class destroyers are responsible for providing the Navy with anti-air, anti-surface and anti-submarine capabilities, as well as providing valuable support for means of surface action, carrier battle, amphibious and replenishment groups.
The Paul Ignatius (DDG 117), Ralph Johnson (DDG 114), and Delbert D. Black (DDG 119) destroyer vessels are currently in their construction phase which is taking fruition at Ingalls Shipbuilding. The company itself has turned out to be a major supplier for the Navy regarding Arleigh Burke-class destroyers, as it has managed to deliver a total of 28 vessels as of now.