Construction works on the development of a second berth at the Deepwater Container Terminal (DCT) in Gdansk (Poland), were officially kicked off on 15 May 2015.
The operation services in the new berth of the terminal are expected to begin after October 2016. Among the technical equipment of the new terminal berth are the delivery of 5 STS cranes by Liebherr Container Cranes, 16 RTG cranes and some other yard machinery. For the first phase of the construction works of the 650m long berth, there are expectations for a growth of over 3 million TEUs of the annual handling capacity of the Gdnask's DCT.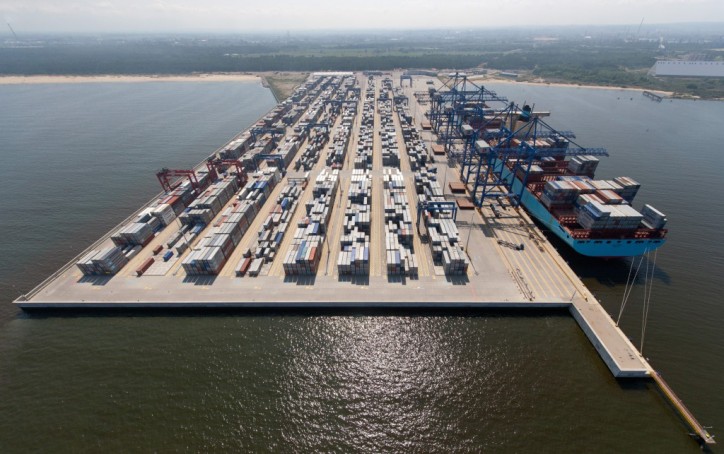 Image: DCT Gdansk
The Deputy Minister of Poland, Janusz Piechocinski said:
"DCT, with two deep-water terminals, capable of handling 3 million TEU annually, is a trigger for the external trade development not only in Poland but also in the whole region of Central Eastern Europe. This reflects the growing potential of Polish importers and exporters, who are more competitive now, when they benefit from direct vessel calls from the Far East to the Baltic."
The Belgium-based company N.V BESIX in October 2014 received the authorization for the construction and building of the new terminal facility.
Approximately EUR 290 million (USD 332 million) were invested in the project by November 2014 by various commercial and development banks, finalizing the financing procedure for the construction of the new 650-metres Gdansk's DCT berth.
The Deepwater Container Terminal in Gdansk began its operation services in June 2007 and the first stage of the terminal construction was finished 3 months later. The terminal capacity for 2014 was 1,188,380 TEUs of transported containers through Gdansk's DCT.