The Indian naval forces have increased the surveillancе in the Indian Ocean, after the growing presence of Chinese naval forces in the region, Navy Chief Admiral R.K. Dhowan said.
Chinese warships of the People's Liberation Army Navy (PLAN) together with some submarines, have been patrolling the Indian Ocean since the beginning of 2008, deployed in anti-piracy operations and since then, their activity in the region has been closely monitored by the Indian Navy.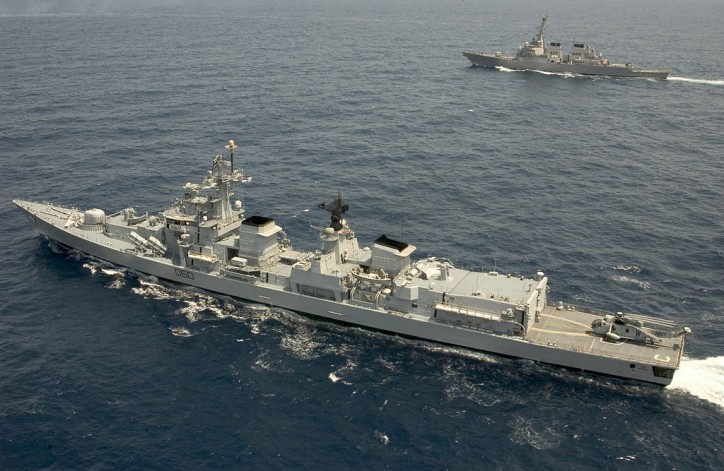 Image: wiki
In a press conference, the Indian Chief Admiral Dhowan underlined the significant role of the maritime resources for the Indian economy and what the exact purpose of the taken measures for a military surveillance in the region was.
"PLA Navy's activities are minutely monitored by Indian Navy and our belief is that the responsibility of protecting Indian Ocean and our coastline lies with the Navy. Our ships, aircraft carriers are always on alert so that our security is maintained," the admiral said.
Earlier this week the White paper on defense of China was released. It directs attention on the growing role of the Chinese Navy in the defense of the Indian Ocean region.
The White Paper said that the naval military forces of China would change the focus from defence of not only offshore territorial waters to a protection of the open seas as well.
In relation with the released Chinese defence document, the Indian Navy commented that every navy may have such kind of vision for "open seas" defence far away from its shores, downplaying in this way the document that China wants to establish.
"There would be aspects related to defensive operations, surveillance, and all kinds of operations which spread out during the period of peace and during hostilities. So it is natural for any Navy to have its plans which covers the spectrum of entire operations," Dhowan said.
The Indian Chief Admiral also expressed his opinion that the document on the defence of China along with their military activities in the area, show that the country intends to become a maritime power in the Indian Ocean region.
The Indian navy chief also reviewed the country's plans for the International Fleet Review policy, which is scheduled for 2016. He underlined the increased need of India in the defense participation in the region. The Admiral believes it has to happen according to the local terms and also by indigenizing military platforms, weapons, sensors and technical equipment. Meanwhile, the Indian public industry and private sectors should be managed without an external interference.
According to the Chief Admiral, the growth and the expansion of the Indian naval forces have to remain oriented on self-reliance, strongly adapted to the local ways of operation. He recommended, the Indian Navy designers and engineers should work in close collaboration with the Defence Research and Development Organisation (DRDO) in order to develop a new opening for the future Indian naval forces.