The first ever bunkering station for LNG in the Nordics is now open and operating successfully in Risavika. The LNG bunkering station is operated by the Scandinavian liquefied natural gas (LNG) provider Skangas.
The station will fuel the Fjord Line's cruise ferries, which are the first and largest in the world to use single fuel charge in LNG engines, meaning that they are powered exclusively by liquefied natural gas.
Up to the moment, the LNG vessels have been bunkered via hose connections from a truck or a tank.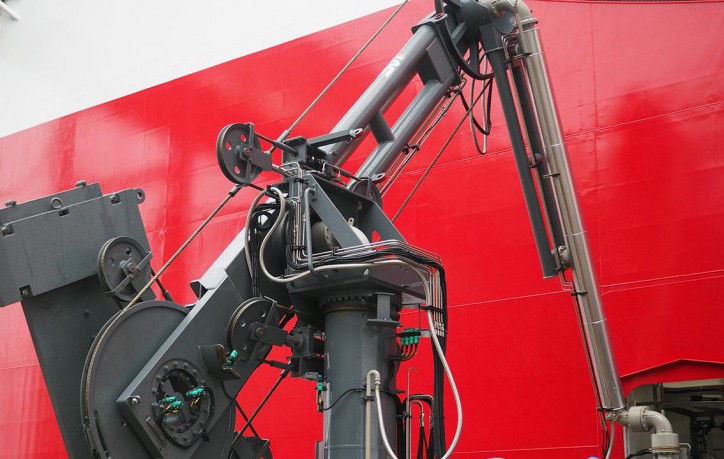 Image: Skangas
Skangas designed the first loading arm ever developed purely for fuel bunkering, as a fueling equipment for the Fjord Line's two dedicated-LNG ferries at Risavika.
According to the company, the main purpose of the new bunker solution was to minimize the receiving vessels turnaround time in port as much as possible.
Skangas officials said:
"The coupling and de-coupling procedures are faster and more efficient, and monitoring of the operation is much easier. Overall, it provides a better solution for both the supplier and the off taker of LNG."
Furthermore, ferries will have the opportunity to bunker LNG for the first time in Norway, while having passengers on board.
Morten Larsen, Fjord Line Technical and Maritime Director commented:
"There is a world of difference when comparing truck-filling with this new bunkering station."
The port of Risavika together with the new LNG bunkering station will be one of the best equipped European LNG bunkering ports.
Risavika Havn and the Scandinavian Skangass have the intention to develop another quay in Risavika Harbour for LNG bunkering.
David Ottesen, the Risavika Havn CEO said:
"At Risavika Havn, we believe that LNG is poised to play an important part of the future fuel mix in the maritime sector. For us, it is important to have Skangass as a partner; one that is obligated to satisfy customer expectations and the future development of our port."
Until the end of 2015, the LNG bunkering in the Port of Risavika is believed to reach nearly 35,000 tons.