Mid 2016, BigLift Shipping successfully transported five giant pieces from Onsan (Ulsan), South Korea, to Kirkenes, Norway, on behalf of deugro.
In a remote bay in Kirkenes the pieces were discharged onto barges to bring them to their final destination – the Ethylene plant under construction – in Tobolsk, inland Russia.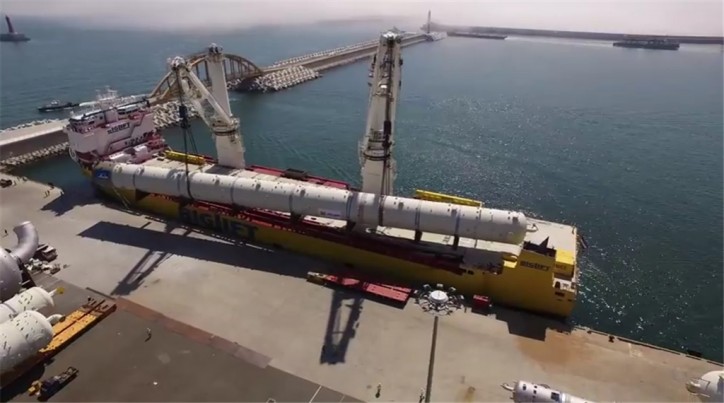 Happy Sky joined BigLift Shipping's fleet of Heavy Lift Vessels in 2013. She was built by Larsen & Toubro in India. She features two 900 mt Heavy Lift Mast Cranes built by Huisman and commissioned at Huisman China's.
In a response to market demands, the crane pedestals were constructed 4 m higher than in the original plans, giving the vessel a lifting height unmatched in the world fleet of heavy lift vessels.
Happy Sky is 155 m long and has 18.680 tdwt. The vessel's length and the forward position of her superstructure offer a single, large cargo hold and a wide, open deck area.
She has folding hatch covers, a large poop deck and cargo rails which make the vessel's full deck area available for cargo stowage. Happy Sky's tween deck is adjustable in height and she is allowed to sail with open weather deck hatches at a draught of up to 7.5 m.
Furthermore, she has Finnish/Swedish 1A Ice Class notation.
Source: BigLift