The Russian Navy is going to receive 50 vessels of various sizes and classes during the course of this year, Viktor Chirkov, navy Chief Admiral, said as reported by the Interfax news agency on Monday.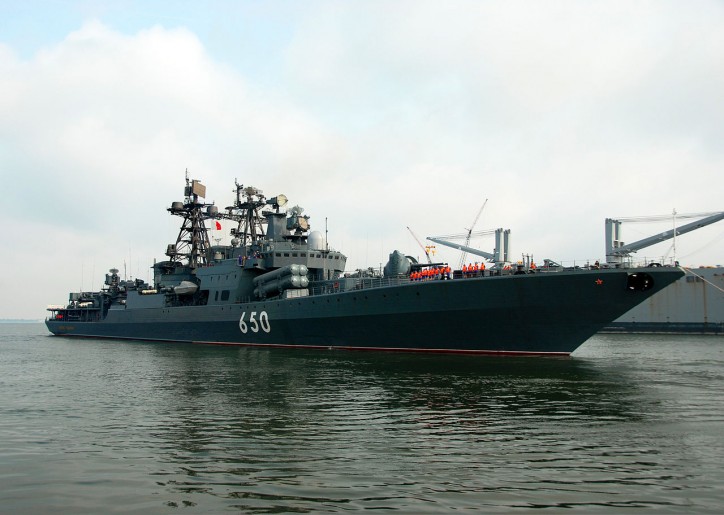 Admiral Chabanenko by U.S. Navy photo, Mass Communication Specialist 2nd Class Andre Rhoden
These new vessels serve as part of a rearmament program initiated under President Vladimir Putin that focuses on providing Russia with a navy that will be capable of carrying out various operations far away from home — a capability that was lost after the Soviet Union collapsed. The program is to be carried out in its entirety by the year 2050. The Russian navy of today is largely relegated to a far more coastal defense role that it had been in the past.
"The stagnation period regarding the development of our otherwise enormous potential has long since passed," Chirkov commented.
The current expansion process of naval power comes following recent confrontations between Russia and the West over the matter of Ukraine, where Moscow has backed separatist militias. In 2014 Russian soldiers went in and seized the Ukrainian region of Crimea, which hosts an important naval base located in Sevastopol.
As reported by the Russian news website Lenta.ru, some of the scheduled 50 vessels are not brand new. Several of the vessels are merely renovated and modernized from other various classes of ships along with submarines and smaller combat boats.
Among the brand new vessels that are scheduled for delivery are surface ships as well as nuclear submarines of the Borei- and Yasen-classes which are modern vessels that are already replacing the old Russian underwater nuclear forces that date all the way back to the Soviet-era.
The navy is also anticipating for new frigates along with patrol boats to be joining its ranks this year.
Chirkov further commented that the shipbuilding program would also develop port infrastructure and overhaul the training process for Russian seafarers, as reported by Interfax.