The Farley Mowat, which was once a flagship of the controversial Sea Shepherd Conservation Society sunk in the Shelburne's harbour (Canada) on June 24.
Canadian Coast Guard teams have set up a 180-metre containment boom around the ship to try and prevent the spread of any oil that might be leaking from the sunken vessel.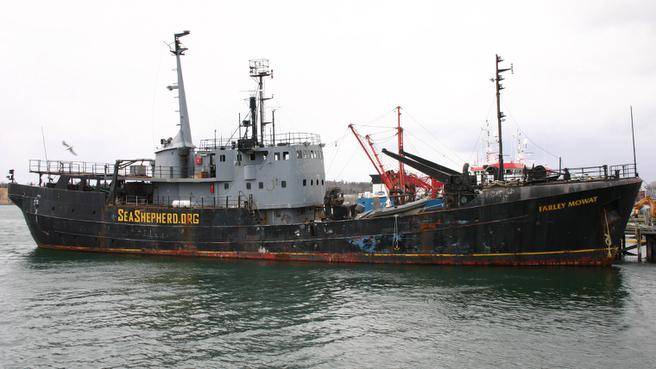 Image: Herarld
Above the water surface visible was only the tip of the ship's bow. Five to six oil drums on board the Farley Mowat have floated away. Crews working at the site have only found two so far. On Thursday, a Transport Canada plane was also circling overhead to monitor the situation.
The ship had been docked at the Shelburne Marine Terminal since September after being sold for scrap metal in 2013.
Rear commodore of the Shelburne Harbour Yacht Club, Ken Taylor, said the boat started sinking Wednesday night and there was no indication why it sank.
The vessel is owned by Tracey Dodds of Halifax, owner of a scrap metal business.
According to Keith Laidlaw, senior response officer at the Canadian Coast Guard's Dartmouth depot, Dodds will be responsible for any pollution and removing the sunken ship from the harbour area.
Fisheries and Oceans seized the vessel for getting too close to seal hunters and colliding with a coast guard patrol ship in 2008. Since then, the ship has changed its owners for several times.
Port officials say that cleanup costs and unpaid dock fees most probably will be much more than the vessel is worth.
The Farley Mowat was built in 1958 in Norway. Few years later in 1996, the ship was bought by the Sea Shepherd Conservation Society. The vessel was renamed in honour of Mowat in 2002.