ABP's Port of King's Lynn has successfully completed its first import of high quality soya bean meal on behalf of Glencore Agriculture UK. The MV Sunmi brought 3,300 tonnes of South American-crushed animal feed to the country's premier pig and poultry producing region.
This shipment heralds an additional flow of soya animal feed for the port, taking advantage of the strategic location of King's Lynn which is close to one of the company's main markets.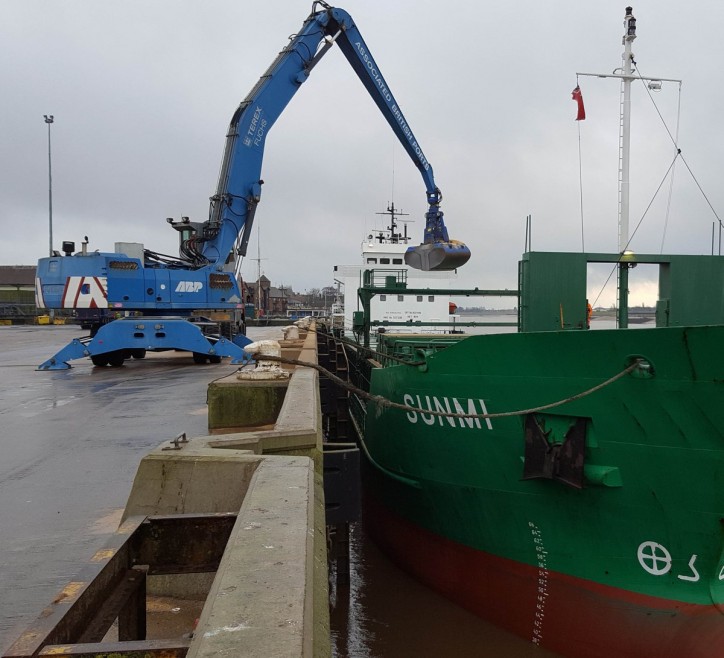 The MV Sunmi at the Port of King's Lynn - Image courtesy of ABPorts
ABP Port Manager for King's Lynn Paul Brooks said: "We are delighted and very proud to work with Glencore Agriculture and provide them with the high standard and quality of service they require."
The Port of King's Lynn is undergoing a range of investments by ABP, including the construction of new bulk warehousing, larger capacity cranes and associated equipment.
Mr Brooks said: "This investment, together with the excellent reputation that King's Lynn has developed for the handling of animal feed, provided Glencore Agriculture with a secure position to develop their sales operations into East Anglia and beyond.

"Our accreditations with AIC TASCC have further underlined our commitment to quality and service. We look forward to helping Glencore Agriculture develop its business over the forthcoming years."

James Maw, Managing Director of Glencore Agriculture UK said: "We are delighted to have started the delivery of soya meal to the Port of King's Lynn. This is a significant development of our business within East Anglia, with the assistance of ABP.

"King's Lynn gives us an extremely important new entry point to one of the key livestock producing areas of the UK. It further complements our nationwide commitment to supplying the animal feed industry with high-quality, cost-effective feed ingredients."
Mr Maw highlighted that East Anglian farmers keep over 27 million head of poultry, including half the country's duck production. The region is also home to around 30 per cent of the pigs in England; over one million animals.
"With dedicated import facilities and distribution channel, Glencore Agriculture provides a fully accredited and assured direct supply chain for quality products - from global production right through to UK consumers."
Source: ABPorts