Following a short period of time without a fixed bunker vessel in the Port of Skagen, Monjasa reveals that the 2012 Turkish built and 2,400 DWT M/T Antares is now joining its North West Europe strait offering, stretching from the English Channel to the Baltic Sea.
With a steadily growing fuel demand at Portland, Tongue Anchorage and surrounding ports, Monjasa has decided to retain the former fixed Skagen vessel 'Skaw Provider' in the UK, and instead add a new vessel to its Denmark based operations.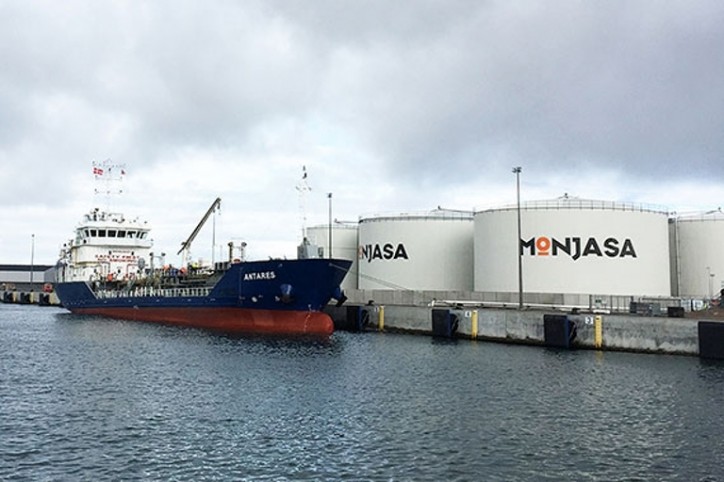 Chemical tanker Antares - Image courtesy of Monjasa
Greater choice and flexibility for our customers
The M/T Antares has already been approved by the Danish Maritime Authorities for bunkering and has successfully completed its first supply during the weekend.
Monjasa Group COO, Svend Stenberg Mølholt comments: "We are very pleased to once again offer a fixed bunker vessel at Skagen. It means a lot to our customers to have this additional bunkering flexibility when placing an order with Monjasa."

"We have carefully analysed the current market and we can see that bringing in a high quality, yet adequately sized vessel like the M/T Antares and focusing on primarily low sulphur products directly from our own terminal, we will gain a competitive edge and thereby match the specific needs of our customers."

"Our North West Europe fleet now counts a total of six vessels, and we are starting to see growing volumes throughout the area. Further, by adding M/T Antares to our fleet list, we are able to honour our fixed contract customers by means of own tonnage."
Facts about M/T Antares:
Double hull chemical tanker
DWT: 2,400
Built: 2012, Turkey
Flag: Germany
Experienced bunker vessel and crew
Oil major vetted
Source: Monjasa