Demiku, a fishing vessel registered in the Seychelles, has caught fire in the port of Victoria. The incident happened yesterday at around 9:40 am LT. The vessel was docked at the port for repairs of its nets when the fire erupted due to unknown reasons and spread to the wheelhouse.
According to Seychelles Fire and Rescue Services Agency (SFRSA), 33 firemen were mobilised from Victoria, nine Airport Fire Services officers assisted. An officer with the SFRSA, Jones Madeleine, said:
"It took us one and a half hours to put the fire under control and around 3 and a half hours to completely put out the blaze. We worked closely with the Seychelles Maritime Safety Administration that was monitoring the operation to ensure that there was no risk of the boat capsizing because of too much water being sprayed to put out the fire."
One crew member, of 32 on board the vessel, was reported to have suffered smoke inhalation. He has been taken to a hospital. The vessel has significantly been damaged. Demiku had 350 tonnes of tuna cargo on board which is expected to be unloaded today.
The authorities have launched an investigation to determine the cause of the incident. A team of SFRSA is being sent to the scene every hour to monitor and secure that the fire doesn't start again.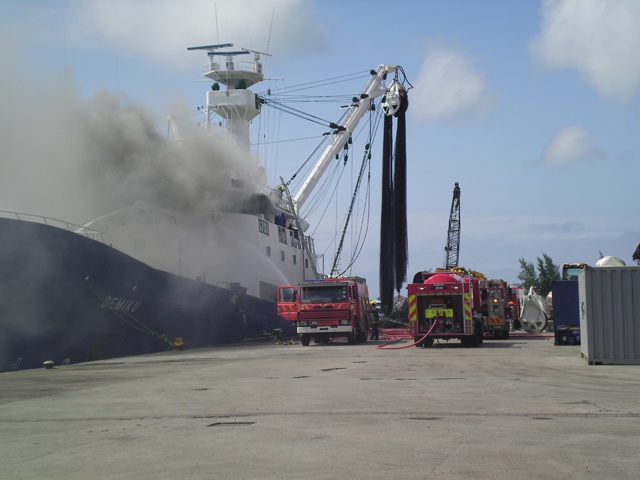 Image by: Seychelles Ports Authority
Demiku (IMO number 7365227) was built in 1977. Agent of the vessel is Hunt Deltel and Co Ltd.
Image by: Joe Laurence, Seychelles News Agency