Eagle Bulk Shipping Inc. (Nasdaq: EGLE) yesterday announced its results for the first quarter ended March 31, 2016.
First Quarter Highlights:
- Net reported loss of $39.3 million, or $1.04 per share, compared to a net loss of $20.7 million, or $0.55 per share, for the comparable quarter in 2015.
- Adjusted net loss of $27.5 million, or $0.73 per share, which excludes one-time refinancing expenses of $5.6 million and non-cash vessel impairment of $6.2 million.
- Net revenues of $21.3 million, compared to $26.3 million for the comparable quarter in 2015.
- Fleet utilization rate of 98.4%.
- As previously reported, completion of a comprehensive balance sheet recapitalization that provides Eagle Bulk with approximately $105 million in incremental liquidity and enhanced financial flexibility.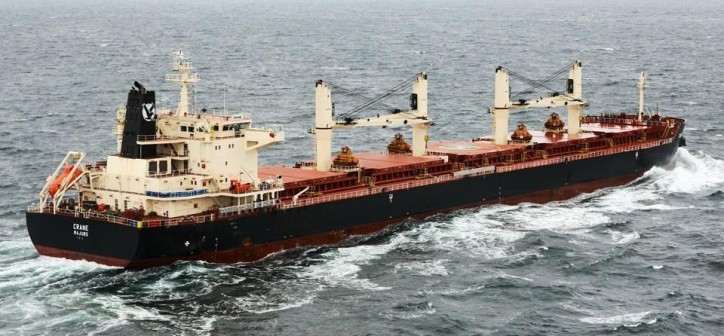 Events Subsequent to the Close of the First Quarter Include:
- The sale of the vessel Peregrine for $2.7 million net after brokerage commissions.
- Agreement to sell two additional vessels, MV Harrier and MV Falcon, for $6.5 million net, after brokerage commissions.
Gary Vogel, Eagle Bulk's CEO, commented, "In a quarter which saw dry bulk indices hit all-time lows in February – coupled with the uncertainty and negative business impact of a protracted forbearance with certain of our lenders - Eagle Bulk acted decisively to significantly enhance our liquidity position and improve our long-term financial flexibility through the execution of a comprehensive balance sheet restructuring. In addition, as part of this transaction, we formed a new corporate structure to facilitate the Company's ability to capitalize on market opportunities going forward.

"In this regard, and in line with our objective to become the premier Supramax owner/operator, we continued to build out the Company's operating platform through the recruitment of top-tier talent in both chartering and operations. We have also focused on technical enhancements, which includes bringing substantially all vessels under in-house management to help actively pursue operational excellence and cost efficiencies over the long-term."
Find more detailed information at: Eagle Bulk Shipping Inc. First Quarter 2016 Results