Sovcomflot's three unique Arctic shuttle tankers, of the Shturman Albanov series, have now transported one million tonnes of crude oil produced at the Novy Port oil and gas condensate field, from the Gulf of Ob (Kara Sea) to the port of Murmansk. The milestone millionth tonne cargo of oil was loaded on Shturman Albanov on 29 January 2017 at the Arctic Gate marine terminal located near Cape Kamenny (Gulf of Ob).
In total, SCF tankers have completed 33 voyages with Novy Port grade oil since last autumn. The first large cargo of oil was loaded on the lead ship of the series, Shturman Albanov, on 12 September 2016.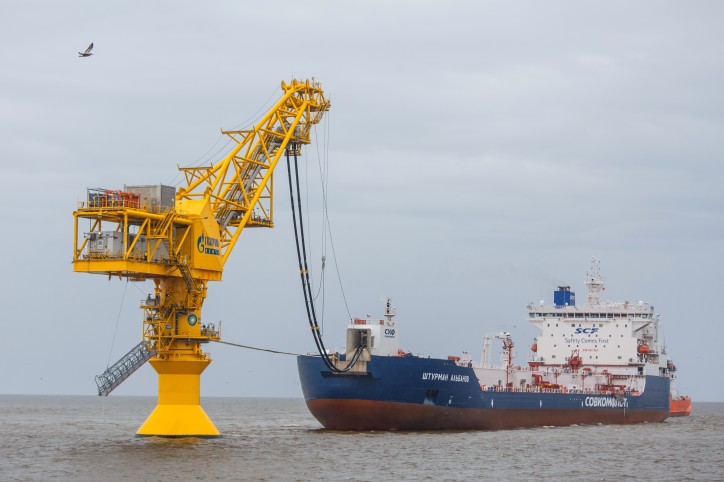 SCF Arctic shuttle tanker Shturman Albanov - Image courtesy: SCF
Sovcomflot's three Arctic shuttle tankers – Shturman Albanov, Shturman Malygin and Shturman Ovtsyn – are specially designed to carry crude oil from the Yamal Peninsula (Yamal-Nenets Autonomous District) to the port of Murmansk all year round. The vessels are registered under the Russian flag and have Saint Petersburg as their home port. Oil is shipped under a long-term contract with Gazprom Neft.
PAO Sovcomflot (SCF Group) is one of the world's leading shipping companies, specialising in the transportation of crude oil, petroleum products, and liquefied gas, as well as servicing offshore upstream oil and gas installations and equipment. The Group's fleet comprises 145 vessels with a total deadweight of over 13 million tonnes. The company is registered in St. Petersburg with offices in Moscow, Novorossiysk, Murmansk, Vladivostok, Yuzhno-Sakhalinsk, London, Limassol, and Dubai.
The Group offers a wide range of vessels in the market segments most demanded by major Russian oil and gas companies. With its own technical development and unique approach to advanced technologies, Sovcomflot can meet the most demanding customer requirements, providing effective transportation for oil & gas companies.
The tankers of the Shturman Albanov series have unique specifications. The deadweight of each tanker is about 42,000 tonnes (Shturman Albanov - 41,454 tonnes, Shturman Malygin - 41,541 tonnes, and Shturman Ovtsyn – 41,551 tonnes). All three vessels have a length of 249 m and a breadth of 34 m. The Russian Maritime Register of Shipping (RS) assigned the vessels an ice class Arc7.
Tanker Shturman Albanov joined the SCF fleet on 16 August 2016, with Shturman Malygin added on 7 October 2016 and Shturman Ovtsyn put into service on 8 December 2016. Proceeding to her operation area, Shturman Ovtsyn took part in a unique transit voyage along the Northern Sea Route within a convoy of ships under the escort of Atomflot's nuclear-powered icebreaker 50 Let Pobedy. For the first time in the history of Arctic navigation, the ships sailed westward along the Northern Sea Route in late December 2016 – early January 2017.
Source: Sovcomflot