The newest state ferry, Chimacum, joined the state fleet on Friday, April 7, as Washington State Ferries officially accepted the vessel from builder/contractor Vigor. The Chimacum will carry ferry riders on the Seattle/Bremerton route this summer after crews complete vessel outfitting, operational training and drills.
Christened Chimacum (CHIM-a-cum), the new ferry's name honors the Chemakum tribe's gathering place, which is now the present day town of Chimacum near Port Townsend.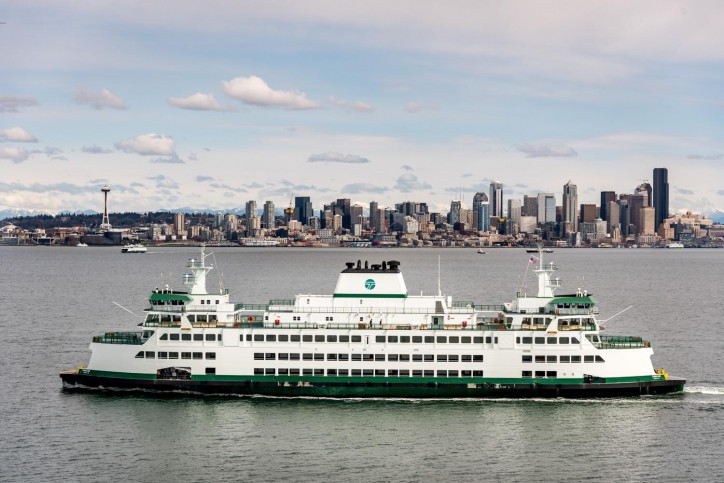 "We're excited to welcome the Chimacum to our fleet," said Washington State Ferries Assistant Secretary Amy Scarton. "This new vessel replaces the 59-year-old Klahowya and allows us to continue providing safe and reliable service for the 2.7 million customers who use the Seattle/Bremerton route each year."
With room for 144 cars and 1,500 passengers, Chimacum, like its sister vessels Tokitae and Samish, offers flexible seating configurations, wider vehicle lanes and two passenger elevators, making it the most accessible vessel in the fleet for passengers with disabilities. The total construction cost was $123 million in addition to equipment provided by Washington State Ferries.
"It's an honor for us to partner with Washington State Ferries to deliver the Chimacum to the citizens of Washington," said Frank Foti, Vigor CEO. "We're proud to support the many communities and hundreds of thousands of people who rely on the ferry system every day. Each ferry built here in Washington helps shipyards throughout Puget Sound retain skills vital to the maritime industry and supports hundreds of jobs."
The Chimacum is the third Olympic Class ferry. The fourth 144-car vessel, Suquamish, is now under construction at Vigor's Harbor Island shipyard in Seattle.
Washington State Ferries, a division of the Washington State Department of Transportation, is the largest ferry system in the U.S. and safely and efficiently carries 24 million people a year through some of the most majestic scenery in the world.
Source: Vigor