The body of a deckhand who fell overboard a vessel berthed in the Port of Tauranga was found by navy divers three hours after he disappeared.
On Saturday morning (Feb 27) a deckhand on the MV Mount Hikurangi fell 10m into the ocean and did not resurface. Police and Coastguard searched for the man, a Chinese national, without success.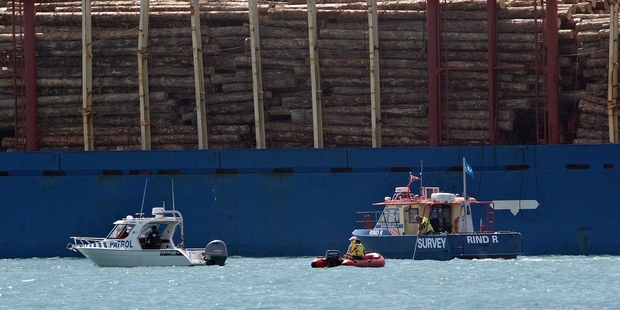 Police and Coastguard searching port waters on Saturday after a deckhand fell overboard from a ship and did not resurface. Photo / Andrew Warner
A navy ship happened to be in the port and navy divers joined in the search, finally finding the man's body about 12.20pm.
Pacific Basin Shipping (HK) Ltd, operators of the MV Mount Hikurangi, said the man fell overboard between the pier and the ship while helping to secure the vessel's deck cargo of logs.
In a statement the company said: "We deeply regret this unfortunate incident and our thoughts are with his family. The company wishes to thank the local authorities for their immediate assistance and action and is co-operating with Maritime New Zealand's investigation into the accident."
Senior Sergeant Karl Konlechner of the Bay of Plenty District Command Centre said it appeared to be "a tragic accident". Inquiries would be made into the circumstances of the man's fall by police and WorkSafe NZ.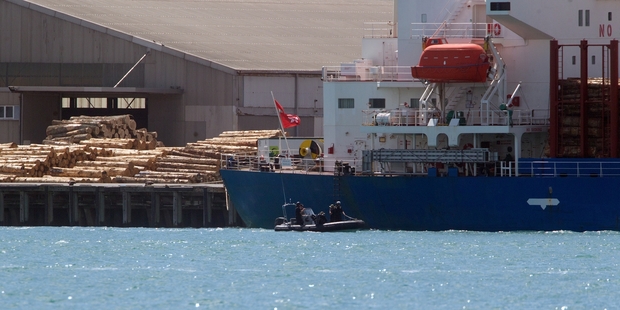 Navy divers joined the search for the man, eventually recovering his body.
Mr Konlechner said police were "very grateful" NZ Navy were in the port at the time and were able to respond quickly by joining the search.
Coastguard Tauranga skipper Chris Clark said Coast Guard had been searching the harbour with their boat since 9.45am without result. He said Coastguard were prepared to search for as long as police instructed.
President of the Mount Maunganui/Tauranga branch of the Maritime Union of New Zealand, Peter Harvey, said that for a long time there had been a trend at the Port of Tauranga of serious injuries and deaths of workers.
"It seems to be happening every couple of years there is a serious injury or death in the port, whether it is on the wharf itself or on a ship attached to the wharf.

"Without putting any blame on anybody, it has happened again. It's very sad."
A Port of Tauranga spokesman said they were aware of the incident but referred all inquiries to police and said they did not have anyone specifically involved in the search.
Bulk Carrier Mount Hikurangi - Image:Robert Bortolin
Source: NZHerald