Turkish shipyard, Cemre Marin Endüstri A.Ş, has ordered 4 x MAN 8L21/31 variable speed GenSets, in connection with the construction of a wind service operation vessel (WSOV) for Louis Dreyfus Armateurs (LDA), the French shipowner. The newbuilding will feature ABB's Onboard DC Grid system which will increase the efficiency of the vessel by allowing the ship's GenSets to work at variable speed thus significantly reducing the vessel's CO2emissions and fuel consumption.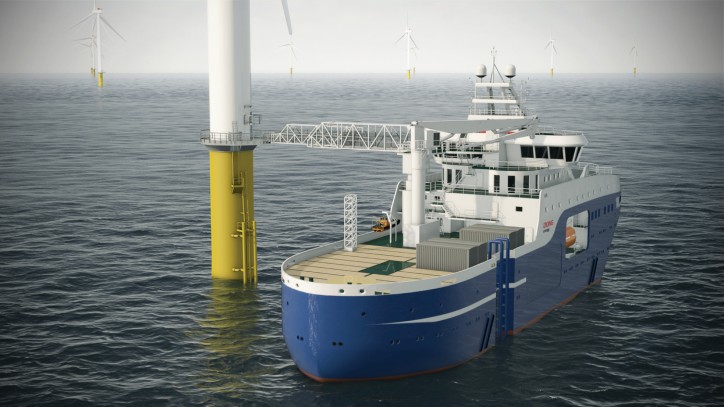 The MAN engines will be prepared for IMO Tier III and set up such that they can be retrofitted at a later time with MAN's state-of-the-art SCR system. This is to cater for the possibility that IMO TIER III NOx emission limits be introduced without obligation within NOx emission-control areas (NECAs) in the North and Baltic Seas before 2021.
Lex Nijsen, Head of Four-Stroke Marine at MAN Diesel & Turbo, said: "This new order confirms our solid foothold within the segment for small-bore, medium-speed engines powering specialized vessels. I welcome this new reference and feel that it highlights the diversity of our product portfolio."
The order follows the recent delivery of newbuildings constructed at Çeliktrans Shipyard for Icelandic fishing company, HB Grandi, where MAN Diesel & Turbo provided each of three trawlers with individual 6L27/38 main engines, SCR systems and MAN Alpha CP propeller plants.
The first of its kind variable medium speed GenSets will be assembled and tested at MAN Diesel & Turbo's Aurangabad facility in India. Salt Ship Design of Norway, with a strong reputation in offshore and specialist vessels, is providing the full design and engineering package for the new vessel, which is scheduled for delivery in Q4, 2018.
The new WSOV will be used for operations and maintenance work on German offshore wind farms, Borkum Riffgrund 1 and 2, as well as Gode Wind 1 and 2. The 83 × 19.4-m wide vessel will operate for DONG Energy, the Danish energy company with a strong renewables profile.
About the MAN 21/31 engine
MAN 21/31 units are characterised by reliable and HFO-based GenSet power, delivering the lowest possible accumulated costs during their entire lifecycle. As such, the GenSet represents a proven, safe investment.
Cheaper infrastructure
The new order was spurred on by the steady decrease in the cost of establishing new, off-shore windmills in comparison with the early days of eco-energy. This increases their competitiveness and helps to implement EU climate and energy projects for the revision of the Renewable Energy Directive and for electricity market design after 2020.
Source: MAN