Chinese COSCO Dalian Shipyard has delivered a new deep subsea support vessel to the Danish shipowner, Maersk Supply Service.
The new vessel, named Maersk Installer, is 11 meters high, 27 meters wide and 137 meters long. The delivery documents were signed by the builder and the vessel owner on Monday, October 16.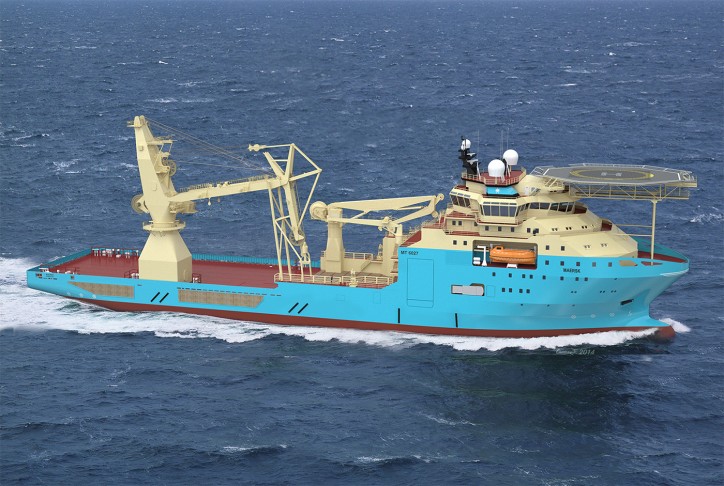 This is the first out of four Stingray subsea support vessels to be delivered by the Chinese builder to the Danish shipowner.
The delivery dates for the vessels were postponed in mid-2017 due to the current market situation with new dates ranging from summer 2017 to spring 2018.
The Stingray class SSVs was designed together with Marin Teknikk as a flexible platform to carry out a wide range of deep and shallow water operations in challenging offshore environments. These DP 3 vessels feature a 400 t active heave compensated crane and 2 work class ROV's capable of operating in up to 3,000 m water depth.
The 1,925 m2 free deck is designed with hundreds of non-welding, sea fastening features and cofferdams are built in above all tanks to ensure flexibility for client operations. The accommodation features 120 modern single cabins to meet increased comfort level requirements.
Back in July, Maersk Supply secured a contract with Subtec S.A de C.V. of Mexico, a subsidiary of Blue Marine Group, for one of its Stingray vessels. The Stingray vessel will be operating in the Bay of Campeche performing general support duties, including IRM and maintenance of Pemex's platforms as well as enhancement and well stimulation. The contract will start in autumn 2018 with a firm duration until June 2020.
Source: Offshore Energy Today