Great Lakes Dredge & Dock Corporation (Great Lakes) (NASDAQ:GLDD), the largest provider of dredging services in the United States and a major provider of environmental and infrastructure services announced that it has taken delivery of the new build ATB hopper dredge Ellis Island and tug Douglas B. Mackie after successful completion of United States Coast Guard and American Bureau of Shipping regulatory sea trials.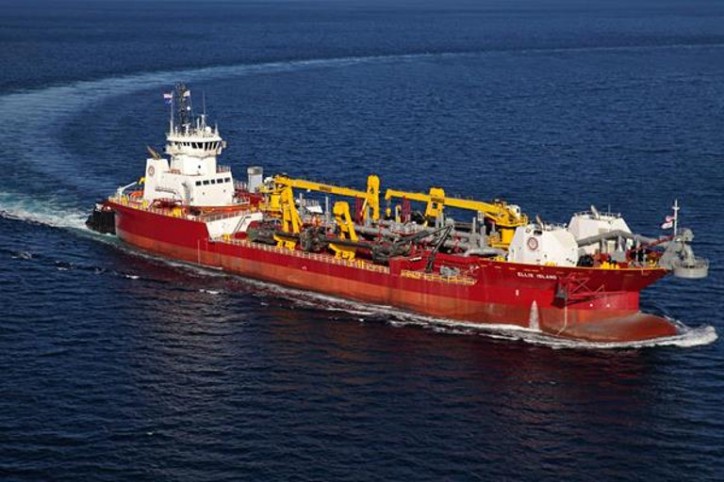 David Simonelli, President, Dredging Division commented: "We are excited to take delivery of this advanced vessel which improves the competitiveness of our hopper group and represents a substantial reinvestment in our fleet. The Ellis Island significantly increases the United States commercial Jones Act hopper fleet capacity as the largest hopper dredge in the United States market, with a carrying capacity of 15,000 cubic yards."
Lasse Petterson, Chief Executive Officer commented: "This addition to our fleet represents a great milestone in Great Lakes' history. The Ellis Island is capable of meeting the current and future U.S. Army Corps of Engineers', State and U.S. Ports' deepening, coastal protection, coastal restoration and maintenance dredging infrastructure demands. The Ellis Island's haul capacity and dredging systems will yield more efficient and faster project execution."
Great Lakes performed U.S. Coast Guard emergency crew drills yesterday and expects to receive the Certificates of Inspection thereafter. Upon receipt of the Certificates of Inspection, the Ellis Island and tug Douglas B. Mackie will depart Panama City, Florida for the Mississippi Coastal Improvement Program project and commence operations on this important long haul coastal restoration project.
Source: GLDD