KNOT Offshore Partners LP (the "Partnership") (NYSE:KNOP) announced Friday that its wholly owned subsidiary, KNOT Shuttle Tankers AS, has acquired all of the ownership interests in KNOT Shuttle Tankers 32 AS (KNOT 32), the company that owns and operates the shuttle tanker Brasil Knutsen, from Knutsen NYK Offshore Tankers AS (Knutsen NYK) for an aggregate purchase price of $96.0 million, less $59.0 million of outstanding indebtedness under the secured credit facility related to the vessel (the "Brasil Facility"), less approximately $35.2 million for a loan owed by KNOT 32 to Knutsen NYK (the "Company Liquidity Loan"), plus certain capitalized fees related to the financing of the Brasil Knutsen. Upon closing of the Acquisition, KNOT 32 repaid the Company Liquidity Loan in full.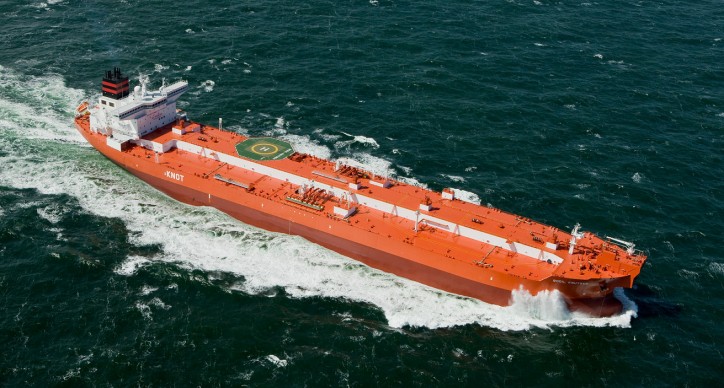 The purchase price was settled by way of a cash payment of approximately $3.1 million, and will be subject to certain post-closing adjustments for working capital and interest and currency fluctuation on the Company Liquidity Loan.
The Brasil Facility is repayable in quarterly installments with a final balloon payment of $41.0 million due at maturity in July 2022. The Brasil Facility bears interest at an annual rate equal to LIBOR plus a margin of 2.3%.
The Brasil Knutsen is a 153,684-deadweight ton DP2 Suezmax class shuttle tanker, built by Samsung Heavy Industries in Korea and delivered in May 2013. The vessel is operating in Brazil under a time charter with Galp Sinopec Brazil Services B.V., which will expire in the third quarter of 2022. The charterer has options to extend the charter for two three-year periods.
The Board of Directors of the Partnership and the Conflicts Committee of the Board approved the purchase price and terms of the Acquisition. The Conflicts Committee retained an outside financial advisor to assist with its evaluation of the Acquisition.
Source: Knot Offshore Partners