ARC's M/V Resolve discharged over 500 pieces of military cargo from the 3rd Armored Brigade Combat Team (ABCT) of the 4th Infantry Division last week at the Helen Delich Bentley Port of Baltimore's Mid-Atlantic Terminal (MAT). This was the first military unit move through Baltimore in over five years.
The 3rd ABCT returned from a nine-month European deployment in support of Operation Atlantic Resolve. The brigade's equipment will be transported from Baltimore to Fort Carson, Colorado. The 3rd ABCT conducted operations in eight countries across central and eastern Europe, assisting U.S. Army Europe (USAREUR) in increasing its presence across the region to help strengthen NATO's defense and deterrence measures. Operation Atlantic Resolve has been ongoing since 2014.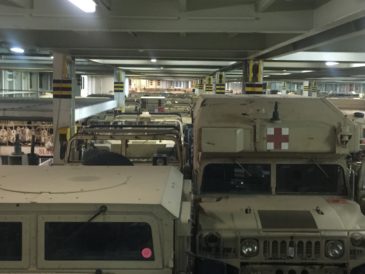 Three roll-on roll-off vessels from American Roll-on Roll-off Carrier (ARC) Group's U.S.-flag fleet, including M/V Resolve, loaded the 3rd ABCT cargo for its deployment in December of 2016 in Beaumont, Texas. ARC has the largest fleet of American-flag ro-ro vessels.
Cargo logistics were coordinated by ARC with U.S. Transportation Command, Military Surface Deployment & Distribution Command (SDDC), and SDDC's 841st Transportation Battalion.
Source: ARC