Arctia's LNG powered icebreaker Polaris (see also CruiseMapper) departed the icebreaker base in Helsinki as the Finnish icebreaking season's third icebreaker on Tuesday 30 February 2018. The vessel heads first to Tahkoluoto, Pori, to bunker LNG. Icebreaker Kontio, that departed on 18 December 2017, and icebreaker Otso, that departed on 9 January 2018, already assist vessels in the Bothnian Bay. IB Polaris runs on both marine diesel and LNG, and it is the first LNG powered icebreaker in the world.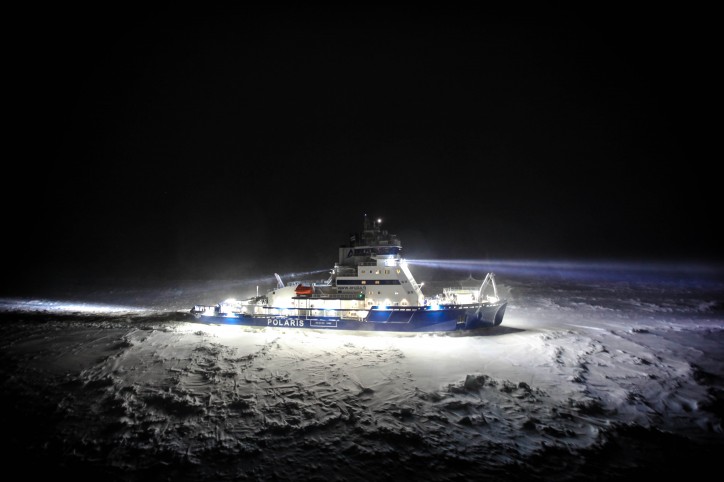 "The crew is very excited to begin icebreaking duty after a long summer and autumn. First we will bunker 700 cubic meters of LNG in Pori. Then we'll join IB Kontio and IB Otso assisting traffic in the Bothnian Bay", explains Pasi Järvelin, Master of IB Polaris.
Arctia Ltd. is a limited company that owns and operates a fleet of eight icebreakers. The company's line of business is the provision of icebreaking services, ice management and specialised multipurpose vessel services, along with the management and chartering of ships in Finland and abroad. In July 2017 Arctia's multipurpose icebreaker Nordica crossed the Northwest Passage (NWP) for the second time. The vessel currently holds the records for both the earliest and the latest season transits of the NWP.
Arctia Ltd. continues the 140-year-old Finnish icebreaking tradition by deploying one of the strongest icebreaker fleets in the world. In Finland, icebreaking services are financed through a market-driven system based on fairway dues. During Arctic summer when the fleet is not required in the Baltic Sea, Finnish icebreakers are available for charter missions in polar areas.
Source: Arctia