Wight Shipyard Co has secured its first multi-million-pound export order for a 250-passenger river catamaran to operate for Central Danube Region Marketing & Development GmbH's Twin City Liner – a tourist service running on the River Danube between Vienna and Bratislava, joining two European capital cities.
The order for the 39 metre vessel is excellent news for the Isle of Wight shipyard and follows a highly successful 2017. At the end of August Red Funnel confirmed an order for a second 41-metre high-speed passenger ferry, followed soon after when Scotland's Jacobite Cruises placed an order for a 21 metre day cruise catamaran for Loch Ness.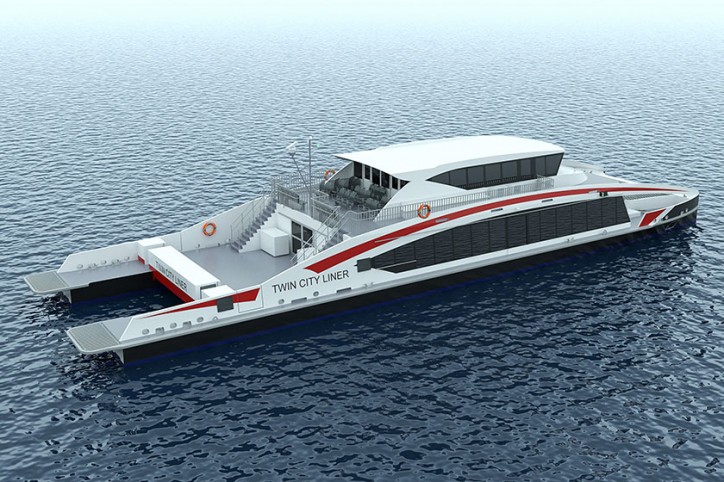 "This order for Twin City Liner in Vienna, our first export order, follows domestic orders for Red Funnel and MBNA Thames Clippers, both of which we secured against international competition," says Wight Shipyard CEO Peter Morton.

"Our reputation for building the finest high speed ferries in the world is spreading, making the prospects for Wight Shipyard look healthy. Our strong order book is a big vote of confidence for our Isle of Wight shipwrights, the marine industry and indeed the UK economy," Peter Morton says.
The new vessel will be a low wash round bilge catamaran designed by Incat Crowther. The Danube presents a challenging operating environment with currents up to 8 knots, water depths in the main navigation channel as low as 100 cm. The hullform is designed to cope with water conditions reasonably expected on the river, being able to resist floating timber and debris. As a restricted waterway it is imperative that wave wash is minimised.
Passengers will board the new craft via midship doors port and starboard and enter a bright and airy main cabin capable of seating up to 186 passengers. A kiosk providing a range of snacks and refreshments will be provided aft on the starboard side. On the port side toilets are provided one of which is for disabled customers.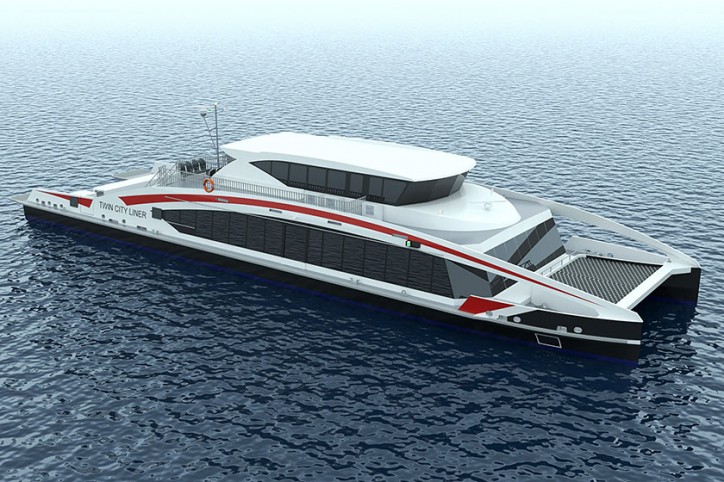 Above, the upper deck is accessed from a centre staircase in the main cabin as well as two staircases aft on the open deck. External seating will be provided for 29 passengers while aft of the elevated wheelhouse interior seating is available for 35 passengers. Being a commuter ferry as well as a cruise vessel, there will be space for 12 bikes on the aft deck.
In the hulls, the engine rooms are designed to provide crews with maximum access with all machinery arranged in the same space. The engine rooms, as well as the jet rooms, are designed so the engines, generators and water jets can be removed without slipping the vessel or damaging the superstructure or hull.
The vessel will be powered by four Scania DI16 072M main engines, each producing 809 kW at 2300 rpm. Capable of reaching a maximum speed of 38 knots, the vessel will sail on the Danube at a service speed of 32.4 knots at modest MCR.
"Since 2006 Central Danube Region Marketing & Development GmbH has been operating successfully with more than 148,000 passengers experiencing the service between Vienna and Bratislava each year using two high speed catamarans," says Dr Gerd Krämer, Managing Director of Twin City Liner.

"With the new vessel from Wight Shipyard Co we want to extend the success story of Twin City Liner for the next 25 years. Customer experience is key to our business and with our new catamaran we are promising our passengers an even more exciting and enjoyable time on the Danube River.

"We have been impressed with the quality of the three vessels Wight Shipyard has delivered to Red Funnel in Southampton and MBNA Thames Clipper in London over the past 15 months. We are convinced that we have found the right shipyard partner with the experience, dedication and passion in the field of building high-quality high-speed vessels.

"With this confirmed order, we will cater for projected traffic growth, achieve much better operating economies of scale, greatly reduce our environmental footprint and at the same time be able to offer a comfortable and exciting high-speed transit along this beautiful waterway," Mr Krämer says.
The new vessel will be delivered in time for the 2019 summer season, starting at the end of March.
Principal Particulars:
| | |
| --- | --- |
| Builder | Wight Shipyard Co, East Cowes, Isle of Wight, United Kingdom |
| Designer | Incat Crowther, Sydney, Australia |
| Length Overall | 39.99m |
| Length waterline | 38.1m |
| Beam | 11.40m |
| Load Draft | 0.8m |
| Passengers: | 250 |
Machinery
| | |
| --- | --- |
| Main engines | Four Scania DI16 076M marine diesel engines |
| Gearboxes | Four ZF 3050 D |
| Propulsion | Four Rolls-Royce Kamewa S40-3 waterjets |
Source: Wight Shipyard Co