Navios Maritime Partners L.P. (Navios Partners) (NYSE:NMM), an owner and operator of drybulk and container vessels, announced that its board of directors has adopted a distribution policy of $0.08 per common unit annually.
Navios Partners also announced yesterday that it agreed to acquire a 2005-built Panamax Vessel for $12.95 million, with delivery expected in March 2018.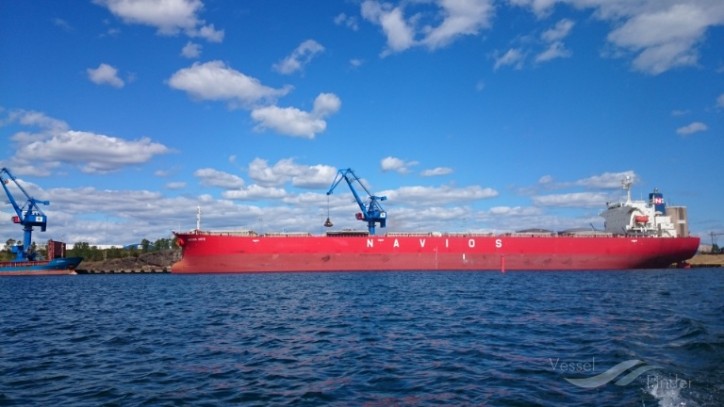 Angeliki Frangou, Chairman and Chief Executive Officer of Navios Partners stated, "I am pleased we were able to restore distributions for our unit holders. Over the past couple of years, we used our cash flow to solidify our balance sheet and to renew and expand our drybulk fleet. Indeed, since 2016, we grew our drybulk fleet by 37% and reduced its average age by 12%, on a deadweight tons basis. In the process, we established a unique platform in the drybulk sector capable of generating significant cash flow. We will share free cash flow with our unit holders through distributions, which we hope to increase as market opportunity and cash flow permit."
Distribution Policy
Navios Partners announced its board of directors has adopted a distribution policy under which it intends to declare quarterly cash distribution in the amount of $0.02 per unit, or $0.08 annually. Based on its current capitalization, Navios Partners expects to distribute approximately $3.4 million quarterly and $13.7 million annually. The first quarterly distribution of $0.02 per unit for the first quarter of 2018 will be payable on May 14, 2018 to all unit holders of record on May 10, 2018.
Navios Partners will review its distribution policy regularly, and future distributions will be at the discretion of the board of directors after taking into account Navios Partners' cash flow, earnings, financial position, among other relevant matters.
Vessel Details
Navios Partners agreed to acquire a 2005-built Panamax vessel, of approximately 87,000 dwt, for $12.95 million. The vessel is expected to be delivered to Navios Partners' owned fleet in March 2018. Based on the current rate environment (Clarksons' 1-year time charter rate for Panamax vessels as of March 2, 2018), the vessel is expected to generate approximately $3.2 million of annual EBITDA, assuming operating expenses approximating current operating costs and 365 revenue and cost days.
Navios Partners is expected to finance the acquisition with cash on its balance sheet and bank debt at terms similar to its existing banking facilities.
Fleet Update
Following this acquisition, Navios Partners controls 40 vessels.
Source: Navios