GasLog Partners LP (NYSE:GLOP) (GasLog Partners) and GasLog Ltd. (NYSE:GLOG) (GasLog) announced today that they have approved entering into two agreements:
For the Partnership to purchase from GasLog 100% of the shares in the entity that owns and charters GasLog Gibraltar (the "Acquisition"). The aggregate purchase price for the Acquisition will be $207 million, which includes $1 million for positive net working capital balances to be transferred with the vessel. The Acquisition is expected to close in the second quarter of 2018 and is subject to satisfaction of certain customary closing conditions. The Board of Directors of GasLog, the Board of Directors of GasLog Partners (the "Board") and the Conflicts Committee of the Board have approved the Acquisition; and
For the Partnership to repay in full its $45 million unsecured term loan from GasLog ("New Sponsor Credit Facility"). The New Sponsor Credit Facility accrues interest at a rate of 9.125% per annum with an annual 1.0% commitment fee on the undrawn balance, with scheduled maturity in March 2022.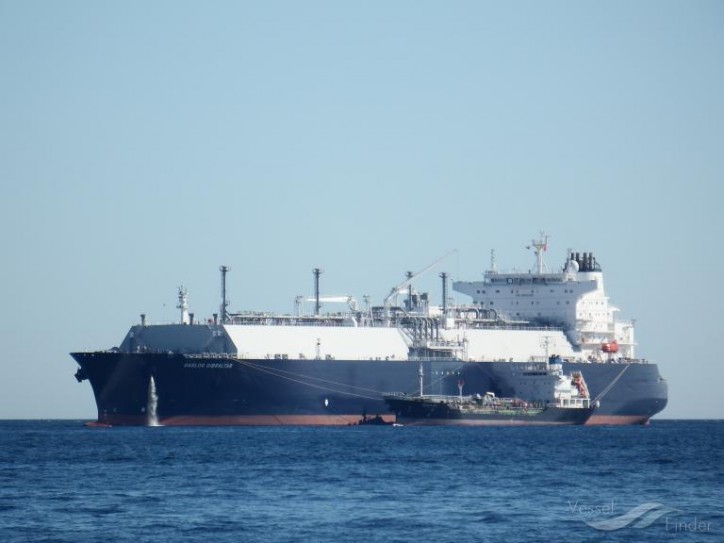 GasLog Partners expects to satisfy the above transactions through a combination of (i) $58 million in cash on hand, sourced from the proceeds of its recent 8.200% Series B preference units offering; (ii) $45 million of new privately placed common units issued to GasLog(1); and (iii) the assumption of $149 million of existing debt on GasLog Gibraltar.
GasLog Gibraltar is a 174,000 cubic meter tri-fuel diesel electric liquefied natural gas ("LNG") carrier built in 2016 and operated by GasLog since delivery. The vessel is currently on a long-term time charter with a wholly owned subsidiary of Royal Dutch Shell plc ("Shell") through October 2023. Shell has two consecutive extension options which, if exercised, would extend the charter for a period of either five or eight years.
The Partnership believes that the Acquisition will be immediately accretive to distributable cash flow per unit and is consistent with its strategy to grow cash distributions through dropdown and third-party acquisitions. GasLog Partners estimates that GasLog Gibraltar will add approximately $22.4 million to EBITDA(2) in the first 12 months after closing. Accordingly, the Acquisition purchase price represents a multiple of approximately 9.2x estimated EBITDA. Upon closing, the Acquisition will be supportive of GasLog Partners' guidance of 5% to 7% year-on-year distribution growth in 2018.
Andy Orekar, Chief Executive Officer of GasLog Partners, stated, "I am very pleased to continue executing our growth strategy with the accretive acquisition of GasLog Gibraltar. This 2016-built vessel is highly complementary to our strategy and its charter to Shell provides approximately five and a half years of stable cash flows at attractive fixed charter terms. In addition, the repayment in full of our highest cost debt is immediately accretive to our distributable cash flow per unit and strengthens our balance sheet. Furthermore, our partial satisfaction of the total consideration payable through the issuance of new privately placed common units to GasLog enables the Partnership to retain substantial liquidity to fund future growth."

Paul Wogan, Chief Executive Officer of GasLog, stated, "We continue to execute on our strategy of dropping vessels into GasLog Partners at a premium to book value and recycling the capital to GasLog. The receipt of newly issued, privately placed common units as partial consideration for these two transactions highlights the strong alignment of GP and LP interests and increases our ownership in the Partnership to approximately 30%. Through our unit ownership and incentive distribution rights, we will benefit from future increases in GasLog Partners' distributions, which should continue to enhance our cash flow, growth prospects and valuation."
(1) Number of and allocation between general partner and common units to be determined prior to closing of the Acquisition based on the volume weighted average pre-closing trading price of the Partnership's common units.
(2) EBITDA is a non-GAAP financial measure. Please refer to Exhibit I for guidance on the underlying assumptions used to derive EBITDA.
Source: GasLog Partners