The newest ship of the
Danish-carrier Maersk Line
, the
1st of the Triple-E series
, was named Friday morning in a ceremony at the
Daewoo Shipbuilding & Marine Engineering (DSME)
shipyard in
Okpo, South Korea
. It bears the name of the late
Mærsk Mc-Kinney Møller
that passed away in April 2012 at the age of 98.
Søren Skou, CEO of Maersk Line
, started the ceremony by welcoming all the special guests and recounting the significant tradition of naming ceremonies in MAERSK ever since the 1st event in 1906 welcomed Peter Mærsk as the 2nd ship in the fleet.
Godspeed!
After that he handed the podium and the honour of naming the 1st Triple-E ship to Ane Mærsk Mc-Kinney Uggla, the youngest daughter of
Mærsk Mc-Kinney Møller
.
"I name you Mærsk Mc-Kinney Møller," Ane Mærsk Mc-Kinney told.
"As you sail the waters of all over the world, may your journeys be smooth and your tasks successful. May you bring happiness to your crew members, may you be a safe haven for all who board you and may you bring pride and prosperity to all. I wish you Godspeed!"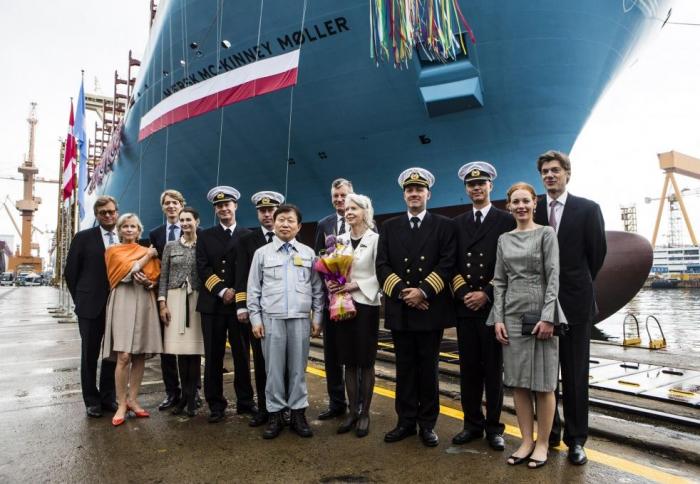 Celebrating new standards
The
Mærsk Mc-Kinney Møller
is the
biggest vessel in the world
, and along with the other nineteen Triple-E ships on order from
Daewoo Shipbuilding & Marine Engineering
, sets new standards in the container shipping industry, not just for size, but also of
energy efficiency
and
environmental performance
. With unique new design
Mærsk Mc-Kinney Møller
features for slower speeds and maximum efficiency, this world's largest vessel is going to emit 50% less CO2 per container moved than the current average on the Asia-Europe route.
The twenty Triple-E ships are going to be phased in gradually over the next couple of years on the existing route between Asia and Northern Europe (AE10).
Special guests
Guests at the ceremony included the other 2 daughters of Mærsk Mc-Kinney Møller - Leise Mærsk Mc-Kinney Møller and Kirsten Mærsk Mc-Kinney Olufsen, the Danish ambassador to Korea, Peter Lysholt Hansen, members of the ship crew, as well representatives from Maersk Line,
Maersk Maritime Technology
and the
DSME shipyard
.