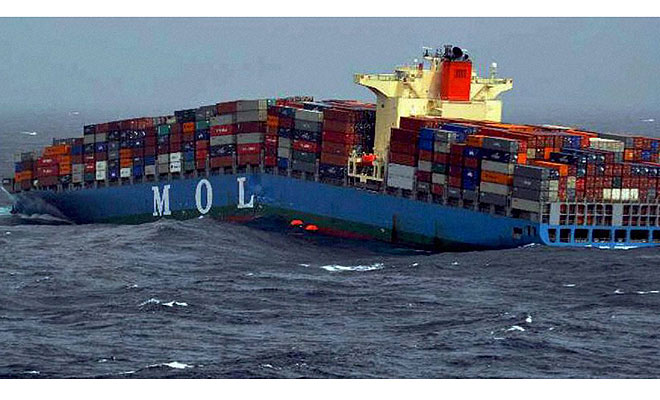 Mitsui O.S.K. Lines, Ltd, the company owner of the MOL Comfort container ship, which broke on 2 parts updates the status of MOL Comfort as of 23:00 JST (18:00 Dubai time) on 20th of June, 2013. The container ship still couldn't continue floating under its own power from 17th of June, 2013 because the hull split off 2 parts while under way on the Indian Ocean:

MOL COMFORT accident - the aft and fore parts of the container ship MOL Comfort are drifting near 14'10"N 63'27"E and 13'13"N 62'05"E respectively in an east-northeast direction. The weather condition at the site is still rough. The patrol vessel that has departed Port of Jebel Ali, U.A.E. on 19th of June is being expected to arrive at the ocean site on around 24th of June.

Containers on the MOL Comfort - some of the containers on the damaged container ship MOL Comfort may be lost or damaged during the accident, but majority of the cargo are confirmed to be aboard the fore and aft part.
There isn't any changes on below items 3 and 4 from the Update released on 20th of June.

Rescue of the cargo and hulls of MOL Comfort - We have contracted with a salvage company and are proceeding to rescue the cargo and hulls.
Oil leakage of MOL Comfort - we confirmed no large volume of oil leakage.

Related: MOL COMFORT UPDATE on June 25: Current position & Inspection of its 6 sister ships
Related: June 26: MOL COMFORT UPDATE: Initial Inspections show the fore part leans forward; drifting to India