Essar Ports' 20 MTPA dry bulk terminal at Salaya, which commenced commercial operations in December last year, has already handled its largest vessel. On 17 May 2018, the terminal berthed and unloaded the MV Orient Vesta, which was carrying 1,57,228 tonnes of thermal coal for its client, Nayara Energy, formerly Essar Oil Ltd.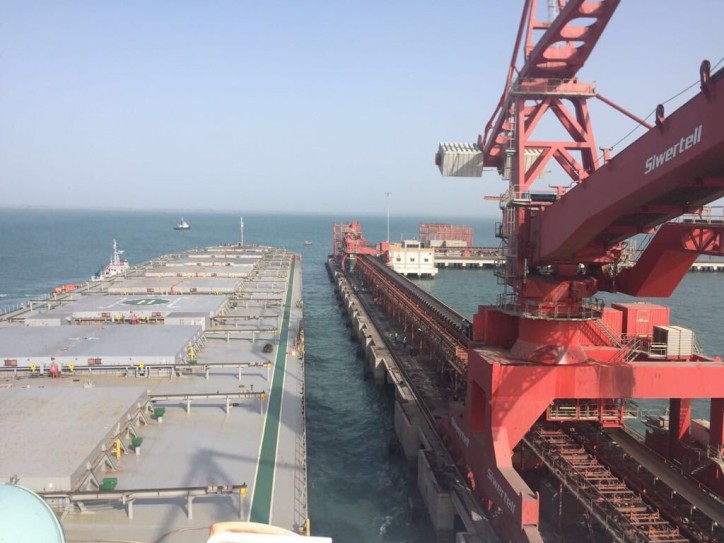 Since the Salaya terminal can handle vessels with a tonnage of approximately 100,000, the Orient Vesta had to be lightered by 45,750 tonnes at the Salaya anchorage. Thereafter, it was berthed alongside the terminal with 1,11,478 tonnes of cargo on board. The vessel was discharged in just three days with an average (on-berth) discharge rate of 36,400 tonnes per day.
Mr KK Sinha, CEO-Essar Bulk Terminal Salaya Ltd (EBTSL), said: "This is a proud moment for Team EBTSL. After its commissioning on 7 December 2018, the Salaya terminal has already handled 4.33 lakh tonnes of cargo across six vessels. We built this facility from scratch, and our performance in the initial months is testimony to its tremendous potential. I am certain that given Essar's track record of building global scale infrastructure projects, the Salaya terminal will also emerge as an asset of national importance."
The only all-weather deep draught port terminal in Gujarat's Saurashtra region, with direct berthing of Capesize vessels, the Salaya terminal is a Greenfield facility that has been built at a cost of over Rs 2,000 crore. It is capable of handling commodities like coal, bauxite, limestone and fertilisers, including both export and import cargoes. The terminal's infrastructure is best in class and compliant with global safety standards. It is equipped with two screw type ship unloaders, each of 2,500 TPH (tonnes per hour) capacity; one 1,500 TPH ship loader; a 20-km covered conveyor system of 5,000 TPH capacity; dust suppression and extraction systems, and a series of stacker cum reclaimers. The stockyard is integrated with nearby power plants that have a cumulative capacity of 1,710 MW capacity, with the conveyor system ensuring environment-friendly movement of coal. The conveyor is a complex 20-km network spread across both land, and sea and enables cargo loading and unloading on the same jetty.
Source: ESSAR