This year seven cruise ships – including a six-star expedition liner – have chosen to berth at the Port of Hull (see also CruiseMapper) as it becomes an increasingly popular cruise calling destination.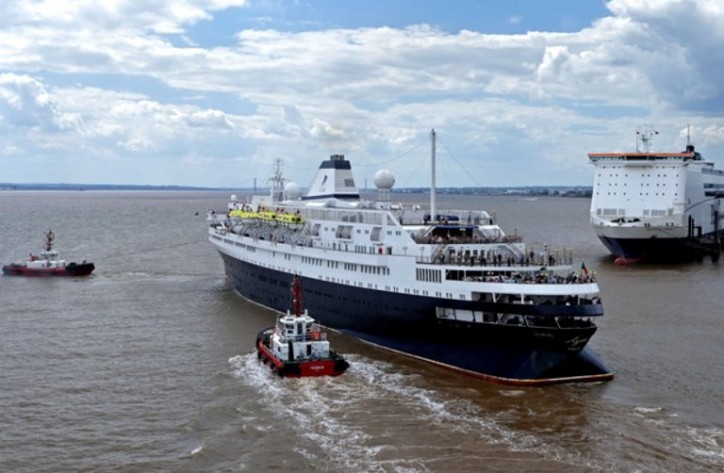 The centrally located port on the Humber is already home to the daily P&O Ferries that see just under one million passengers travel to and from Zeebrugge and Rotterdam each year.
The first to call was the luxurious 157 metre Silver Cloud that saw 250 passengers enjoy a day trip to the cultured city of Hull and to nearby historically-steeped York. The 12 day Silversea cruise toured the UK, finishing at London Tower Bridge.
ABP apprentices and staff lined up to welcome the Silver Cloud passengers to the Port of Hull and they enjoyed canapés and jazz music as they boarded to set sail. A traditional plaque exchange also took place on board between ABP, Silver Cloud's Captain and Hull City Council's Lord Mayor and Admiral of the Humber.
The Cruise and Maritime Voyages Marco Polo ship will depart from the Port of Hull during the summer months from June to August. Leading port operator ABP has invested in creating additional car parking for holidaymakers to ensure a stress-free trip.
"It's great to see that cruise operators are recognising the Port of Hull as not only a key departure location, but also as a calling Port with so many nearby sights to be seen," said ABP Humber Director Simon Bird.

"We're confident that it will bring economic wealth to the surrounding areas with passengers visiting nearby businesses and attractions.

"Next year we already have eight provisional bookings and we will continue to invest in the infrastructure of the Port to ensure it's a premier location to welcome many more holidaymakers."
Source: ABPorts