The CMA CGM Group, a leading worldwide shipping group, announces the inauguration of its flagship, the CMA CGM ANTOINE DE SAINT EXUPERY, by Bruno Le Maire, French Minister of Economy and Finance, and Rodolphe Saadé, Chairman and Chief Executive Officer of the CMA CGM Group
Thursday, September 6th, 2018 at 11 AM
Terminal de France, Port of Le Havre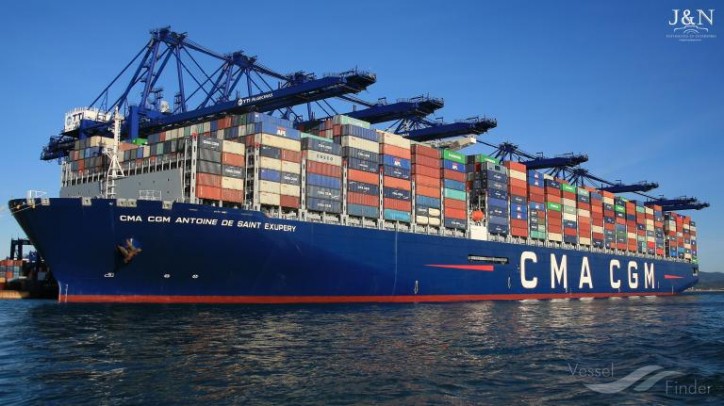 With a 20,600 TEU (Twenty Equivalent Unit) capacity, the CMA CGM ANTOINE DE SAINT EXUPERY is the largest containership in the world flying the French flag:
400-meter long and 59-meter wide,
longer than 4 football fields and bigger than The Empire State Building and the Eiffel Tower,
20,600 TEUs capacity, or 123 kilometers of containers.
A technological-advanced ship for the protection of the environment
The CMA CGM ANTOINE DE SAINT EXUPERY benefits from the best technologies:
a Becker Twisted Fin allowing to improve the propeller's performance, helping reduce significantly the energy expenditure for a 4% reduction in CO2 emissions,
a new-generation engine that significantly reduces oil consumption (-25%) and fuel consumption for a 3% average reduction of CO2 emissions,
a system for the treatment of ballast water by filters and UV lamps, allowing to reject to the sea a cleared water, without living organism capable of impacting marine biodiversity.
A series of ships paying tribute to French writers and pioneers 
The CMA CGM ANTOINE DE SAINT EXUPERY joins a line of containerships bearing the name of some of France's greatest writers and pioneers like the CMA CGM JULES VERNE, named after another great writer who was passionate about travels and adventures, or the CMA CGM BOUGAINVILLE which was inaugurated in 2015.
By naming its flagship CMA CGM ANTOINE DE SAINT EXUPERY, the Group pays tribute to the globally known Aéropostale pioneer, writer and poet.
Source: CMA CGM