Spanish ferry company Baleària has decided to buy Visemar One, a 2010-built RoRo/passenger ship which has been part of the company's fleet for seven years.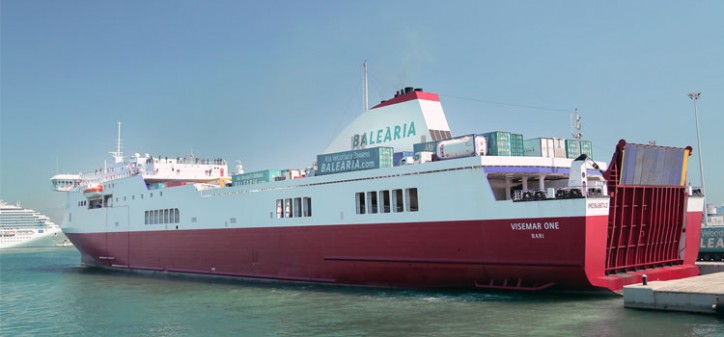 "Baleària has just invested close to 55 million euros (USD 62.4 mln) in the acquisition of the vessel Visemar One , which has been sailing for the company for seven years. With this purchase, the fleet of boats owned by Baleària reaches 26 units out of a total of 30," said a press release from the company.
The ferry Visemar One (see also CruiseMapper) was launched by the company in 2011 on the Barcelona-Palma route and currently operates between València and Palma. This ferry, 186 meters in length, stands out for being a RoPax with great capacity of roped load, 2,860 linear meters, responding to the needs of the line that connects the peninsula and Mallorca for the transport of goods. In addition, the ship -constructed in 2010- has a capacity for 600 passengers and navigates at a speed of 24 knots.
The ferry has different accommodations, a self-service restaurant and an indoor bar-café and another on the outside deck. In addition, the ship has a gift shop and essential items, as well as children's area and adapted access for people with reduced mobility.
It should be noted that the ship has been valued positively by customers in the latest satisfaction surveys conducted by the company Investrategia, with an average score of 8.2 out of 10.  
Baleària currently has 30 vessels in its fleet, 26 of which are owned. The shipping company, which is immersed in a process of renewing the fleet, is building two ferriespowered by natural gas in the Italian shipyards Cantiere Navale Visentini Likewise, Baleària also plans to remotelize to this cleaner energy five ferries of its current fleet, so that they can be propelled by this fuel and reduce polluting emissions. In addition, the company also studies two other projects.
Source: Baleària