Bronze plate unveiled on Kiel's walk of cruise ships at Ostseekai
This Sunday, (02/09), Kiel says goodbye to the Costa Pacifica cruise vessel for this year's season. To mark the over 40 years of partnership between the shipping company, the city and the port, Hans-Werner Tovar, City President, Dr Dirk Claus, Managing Director PORT OF KIEL (see more about the port at CruiseMapper) Captain Paolo Viscafè and Dr Jörg Rudolph, General Manager Costa Germany, unveiled a bronze plate on Kiel's Walk of Cruise Ships at the Ost-seekai Terminal.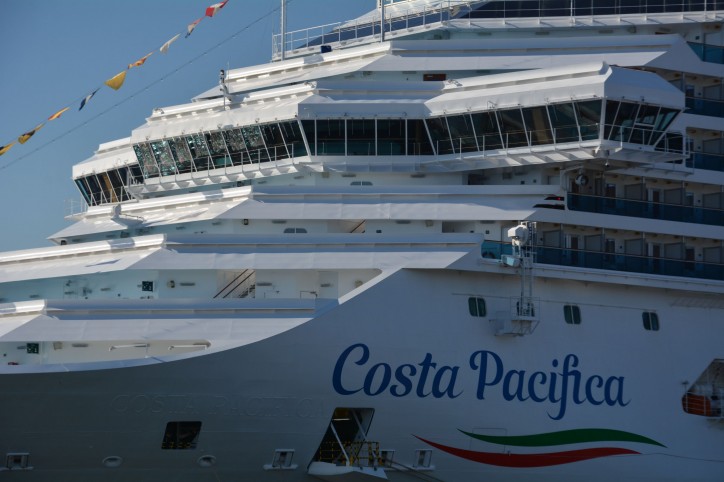 City President Tovar: "With this plate on the Walk of Cruise Ships, we com-memorate the particular importance of Costa Crociere for Kiel as a cruise location. For more than 40 years the ships of Costa have been calling at our port. Hence, the Italian shipping company has contributed significantly to Kiel's development into one of the most important cruise ports in Northern Europe."
The first ship to visit the Capital City of Schleswig-Holstein was the Frederico C in June 1976. The passenger turnaround at the Bollhörnkai Terminal amounted to 1,724 guests back then. Today's call of Costa Pacifica saw more than 3,300 travel-ers debark in the morning while the equal number of guests is booked for the following cruise around Western Europe which is going to start in the evening.
"More than 40 years ago, Costa was one of the first international shipping companies who acknowledged and utilized the potential of Kiel, the Baltic port. We feel at home here. For decades, we have had a reliable and flexible partner by our side: the PORT OF KIEL. Our crew, our guests and we – Europe's largest cruise company - appreciate Kiel as an attractive location with a sound and modern infrastructure", Jörg Rudolph explained.

"Next year already, Costa will expand its presence in Kiel and thereby foster this successful partnership."
This year, the Costa Pacifica set off from Kiel's Ostseekai Terminal to five cruises to the metropolises on the Baltic Sea. In 2019, the range will be expanded by five cruises to northern waters alternating with the Baltic cruise itinerary. This makes ten journeys to start in Kiel. Costa's season open-ing 2019 will be on 7th June when the ship is expected back in Kiel after a transit journey from the Mediterranean.
After the inaugural call of Frederico C, seven more Costa ships have been guests in the port of Kiel:
Columbus C, Costa Marina, Costa Victoria, Costa Classica, Costa Magica, Costa Pacifica and Costa Favolosa. To date, more than 700,000 Costa guests started or finished their cruise on the Fjord. Since 2011, Kiel has been the homeport for the Costa Pacifica (290 m, 114,500 GT) during the summer season.
"Costa has been with us since our beginnings as a cruise port. At the end of the 1970s, cruise ships were a rarity in our port. Today, there are more than 160 calls per season", says Port Chief Dirk Claus. In order to further strengthen our market position and to keep offering first-class service to the shipping companies and passengers also in the future, the PORT OF KIEL is currently starting to build a second terminal building at Ostseekai, which will be taken into operation with the beginning of the season 2019."
Source: Port of Kiel