Hess and ESVAGT add to their 19-year long collaboration with a new top modern multirole vessel, which appropriately was christened 'Esvagt Innovator'.
Thursday, August 23rd, ESVAGT welcomed vessel number 43 into their fleet in a traditional champagne christening ceremony.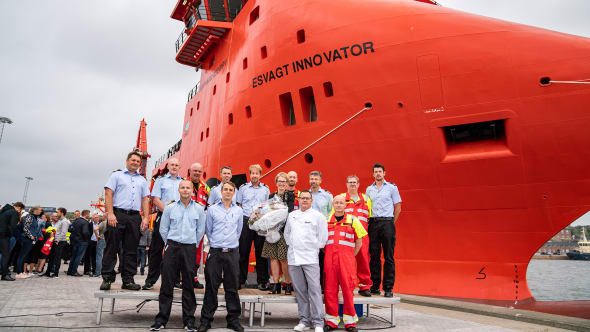 'Esvagt Innovator', as Stina Frederiksen, wife to Hess Denmark's Operations Manager René Frederiksen, christened the little new one, will continue and expand the close collaboration between ESVAGT and Hess on the South Arne Field; a collaboration which has already proven strong throughout the past 19 years.
"For almost twenty years, Hess and ESVAGT have worked together at the South Arne Field," said ESVAGT's interim CEO Kristian Ole Jakobsen. "Now, we mark the continuing partnership with the inauguration of 'Esvagt Innovator'. With 'Esvagt Innovator', we are continuing to work on the long term trusted partnership, and will provide Hess with the safety and support needed to operate the South Arne Field."

"The vessel we christen today sets a whole new standard for what a vessel can do, which is important in support of Hess' priority to deliver safe, reliable operations," said René Frederiksen, Operations Manager for Hess Denmark. "In Denmark, the company is the operator of the Syd Arne field in the Danish sector of the North Sea that has been producing oil and gas since 1999. Our South Arne asset is one of the largest oil producers in Denmark and adheres to rigorous operational standards."
Seven in one
The mandatory champagne christening is close to being the only traditional aspect of the new vessel. As the name insinuates, 'Esvagt Innovator' is a specially designed multirole vessel, able to handle numerous and complex tasks.
"We now have a vessel able to solve by far most of the tasks we are faced with," Frederiksen said. "In the past, we sometimes had to call in up to seven different vessels in order to solve the varied types of tasks. ESVAGT has gathered all seven functions in one vessel – it is efficient and innovative and a great gain for our productivity, and we continue to work on the core task and on the safety performance which is absolutely essential. Frederiksen added.
The vessel is 82 metres long and filled with innovative solutions. In addition to standby tasks, connection to tankers and supply tasks, which ESVAGT so far has handled with 'Esvagt Connector', 'Esvagt Innovator' will allow for other service tasks including maintenance and inspection of the oil export system.
Pushed the limits
It has been both hard work and a fantastic challenge to get so many qualities on the same deck, and ESVAGT's interim CEO Kristian Ole Jakobsen is proud of the result:
"Both we at ESVAGT and the designers from Havyard have been greatly challenged on what was possible on an operational and technical level. The desires regarding the multiple functions have called for innovative solutions, but together and in close dialogue with the client, we achieved to push the limits of what was possible implementing in one vessel. This shows that demanding clients are one of the best driving forces when developing new innovative solutions", says Kristian Ole Jakobsen.
'Esvagt Innovator' is already on duty in the South Arne Field.
FACTS:
The 82-meter long MRV 'Esvagt Innovator' is newly built from Cemre Shipyard in Turkey.
The vessel is highly advanced and specially designed for the tasks that are to be performed. An A-frame has been added, enabling the hose handling of particularly sensitive equipment; there are cranes on both railings; DP2; ROV hangar and a dedicated ROV control room, and a rather innovative paravane oil spill preparedness system. The vessel is furthermore ready for the gangway system, so technicians can be transferred either by boat or by walk-to-work, and with 18 double cabins and an active roll damping system, there are plenty of pleasant facilities and a good working environment for the service technicians that might be onboard
Source: ESVAGT