During the 4th Eastern Economic Forum (EEF), PAO Sovcomflot (SCF Group) signed a set of agreements with Rosneft, Zvezda Shipbuilding Complex and VEB Group, placing orders with Zvezda for a series of two next generation large-capacity Aframax tankers. VEB-Leasing will finance the construction of the tankers, whilst a subsequent 20-year time-charter for them has been agreed with Rosneft.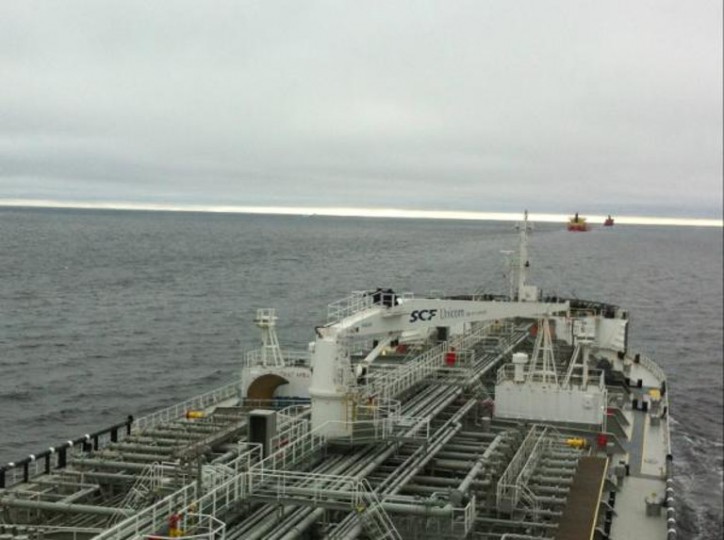 A ceremony where the signed agreements were exchanged, held at Zvezda Shipbuilding Complex, was attended by Vladimir Putin, President of the Russian Federation. The ceremony participants were: Sergey Frank, President and CEO of PAO Sovcomflot; Igor Sechin, CEO, Chairman of the Management Board, Deputy Chairman of the Board of Directors of Rosneft, and Artem Dovlatov, Head of VEB-Leasing.
The vessels will have a deadweight of 114,000 tonnes and a 1A/1B ice class, which makes them able to operate all year round in areas with difficult ice conditions, including sub-Arctic seas and Russian ports of the Baltic region.
The technical specification of the tankers reflects the regulatory limits on sulphur, nitrogen and greenhouse gas emissions, which will come into effect for the Baltic and North Seas in 2020.
These next generation tankers, designed to operate on LNG fuel, provide for a low level of human impact on the environment. Tankers fuelled by LNG significantly reduce emissions of harmful substances: sulphur oxides (SOx) by 100 per cent; nitrogen oxides (NOx) by 76 per cent and carbon dioxide (CO2) by 27 per cent, when compared with similar vessels operating on heavy fuel.
The technical specification of the vessels was designed by SCF's specialists, who applied their vast experience of operating large-capacity tankers in adverse ice conditions, with the close involvement of the Far Eastern Shipbuilding and Ship Repair Centre (FESRC) and Hyundai Heavy Industries (Republic of Korea), a technological partner of Zvezda Shipbuilding Complex.
Sergey Frank, President and CEO of PAO Sovcomflot, stated: "We welcome the plans of the Russian shipbuilders, from Zvezda Shipbuilding Complex, to create modern large-capacity vessels using natural gas-based bunkers (LNG) as their primary fuel. I'm sure that it is with such vessels that the future of merchant shipping lies.

"Sovcomflot is the world leader in the Aframax tanker segment, with our vessels serving the needs of the largest oil and gas companies for safe transportation of crude oil in the Baltic, North Sea, Black Sea, Mediterranean, Sea of Okhotsk and the Sea of Japan.

"I am confident that the experience gained in the technical and commercial operation of SCF's next generation tankers will be in demand both with our customers and Russian shipbuilders, helping to consolidate the leadership of Russian companies in the implementation of "green technologies" in maritime transport. Sovcomflot is grateful to Rosneft for its decision to use next generation LNG-fuelled tankers in its export programme.

"This project builds on the positive experience of interaction with Vneshekonombank in financing the construction of unique Arctic shuttle tankers, of the Mikhail Ulyanov series, at the Admiralty Shipyards in Saint Petersburg."
Source: Sovcomflot