Wightlink's brand new £30 million hybrid energy car ferry, Victoria of Wight, is to be officially named by HRH The Countess of Wessex on Thursday, September 20.
The ceremony will take place at Wightlink's Fishbourne port on the Isle of Wight in front of local school children, civic dignitaries and invited guests. It will include a blessing from The Right Reverend Christopher Foster, Lord Bishop of Portsmouth.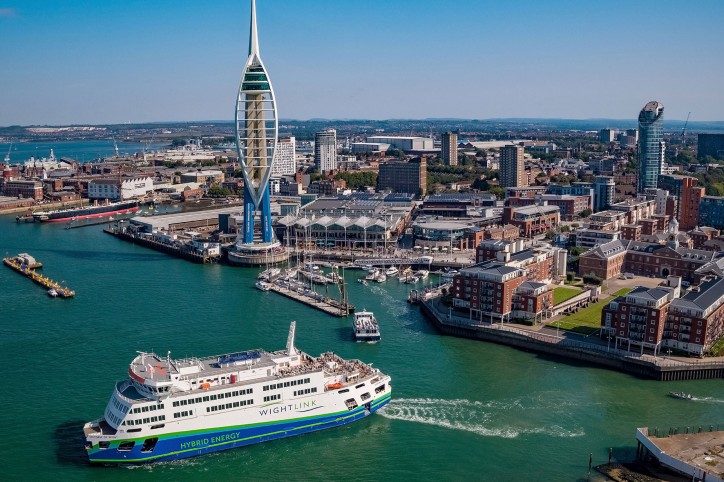 After the ceremony HRH will join guests for a tour of Victoria of Wight, showcasing her environmentally-friendly credentials and luxurious interior – which includes more than 20 lounges and seating areas.
Guests will be treated to refreshments sourced from local Isle of Wight suppliers and canapes produced by top Isle of Wight chef, Robert Thompson who is a champion for local produce.
Powered by hybrid energy, Victoria of Wight uses a combination of battery power and conventional engines to minimise emissions. Its eco-friendly credentials also include a lift that is able to generate electricity through kinetic energy, onboard water heated by warmth generated by the engine and motion sensor LED lighting in lesser used areas of the ship.
Wightlink Chief Executive Keith Greenfield says: "Victoria of Wight heralds a new, greener era of travel between the Isle of Wight and the mainland and we are delighted that HRH The Countess of Wessex is able to join us to officially name our new flagship.

"This will be a very proud moment for Wightlink as we have worked very hard to develop this new generation ship with our partners, to give the next generation a greener – and more comfortable – journey across the Solent."
Victoria of Wight can carry up to 178 cars and more than 1,000 passengers and is the final milestone in Wightlink's £45 million investment in the Portsmouth to Fishbourne route. This included extensive port improvements which allow for double deck loading to both Victoria of Wight and St Clare ferries, meaning easier loading for customers.
She arrived in the Solent in August after a 3,019 nautical mile voyage from the Cemre Shipyard in Turkey where she was built following a competitive tendering process.
The naming ceremony will take place around lunchtime and will be broadcast live via Wightlink's Facebook page: www.facebook.com/wightlink.
Source: Wightlink