South Korean shipbuilder Hyundai Mipo Dockyard said on Tuesday it has won a new order for a cruise-type car ferry from domestic operator Seaworld Express Ferry for 68 billion won ($60.5 million).
The 27,000-gross tonnage ro-pax ferry will be built from July 2019 and will serve the Mokpo-Jeju route after delivery in September 2020.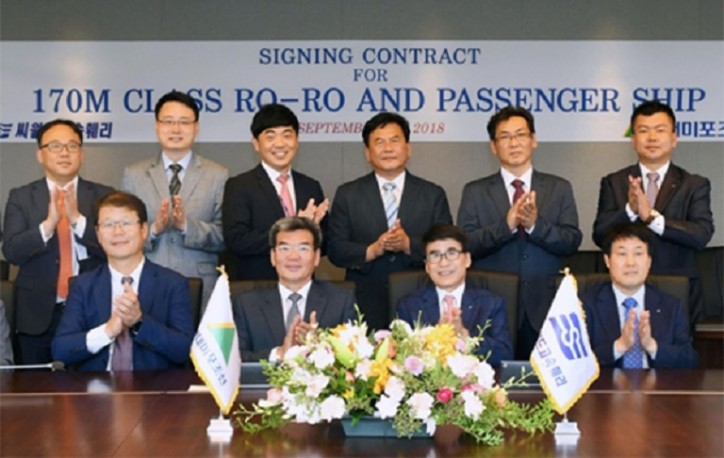 The new order comes months after the shipbuilder clinched an order for a 31,000-gross tonnage ro-ro ferry from South Weidong Ferry, the first company to operate ferry services between Incheon, South Korea and Weihai, China.
The new ship will be 170 meters in length, 26 meters in width and 28 meters in height, capable of accommodating up to 1,300 passengers, 125 trailers and 100 cars. It will travel at a maximum speed of 23 knots, the company explained.
The ferry ship will be equipped with a global positioning system, automatic fire alarm and sprinkler systems plus four marine evacuation equipment and thirteen 100-men life rafts and various safety devices.
It will also provide cruise-style lounges, outdoor restaurants, cinemas and other amenities including coffee shop, duty-free shop, karaoke bar and convenience stores. 
The contract is part of efforts to upgrade coast liners in Korea and more contracts are on the way, which are expected to bring vitality to domestic shipbuilders suffering from scarcity in new orders.
Source: Pulse