Ritz-Carlton Yacht Collection's first "anti-cruise" luxury vessel (see also CruiseMapper) will benefit from a full integration of ABB's propulsion, automation and dynamic positioning package with Raytheon Anschütz's navigation system.
Pioneering technology leader ABB and Raytheon Anschütz, a leading manufacturer and integrator of navigation and naval systems, see significant customer advantages in management of bridge, digital navigation and electric propulsion systems integration by a single project team.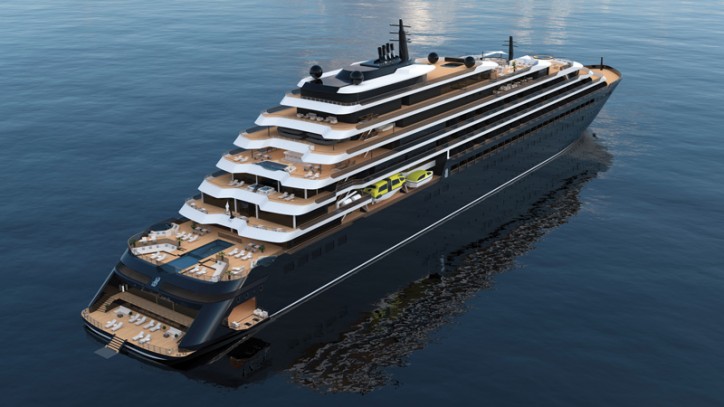 As a result of the shipowner's decision to add a high-end Integrated Navigation System (INS) to ABB's existing package, the first-in-class Ritz-Carlton Yacht Collection vessel becomes the breakthrough project for last year's Memorandum of Understanding between ABB and Raytheon Anschütz.
The 190-meter Ritz-Carlton Yacht Collection vessel, due for delivery by Spain's Astilleros Barreras shipyard in 2019, is the first of three identical luxury ships. The "anti-cruise" brand highlights not only the ultra-luxury design of these ships and the individual care envisaged for 298 guests aboard, but their off-the-beaten track itineraries.
In its contractual role as a systems provider, ABB will integrate the Synapsis NX INS bridge and navigation technology from Raytheon Anschütz as the first example of a broader cooperation that adds significant "bridge-to-propeller" value. The Synapsis NX system will include a high-precision autopilot and track control system; radars; navigation sensors and communication systems that fully integrate with ABB's propulsion, automation and control. The system will also include multifunctional workstations with navigation software that meets International Maritime Organization's INS performance and test standards.
Additionally, the package includes the ABB Ability™ Marine Remote Diagnostic System for continuous monitoring of electrical systems on board, linking 24/7 to the ABB Ability™ Collaborative Operation Center infrastructure for remote equipment monitoring and data analytics to support predictive maintenance, planned interventions and remote support.
"We are setting down a new marker on what is possible in 'bridge to propeller' shipboard systems integration," says Juha Koskela, Managing Director, ABB Marine & Ports. "The Raytheon Anschütz INS is completely complimentary to ABB's portfolio, and this project shows one of the major synergies available through our 'Electric. Digital. Connected.' strategy enabled by the ABB Ability™ offering."
ABB Ability™ is the company's unified, cross-industry offering extending from device to edge to cloud, integrating data to and from products, systems, solutions and services to deliver actionable information. The ABB Ability™ platform uses Microsoft Azure as the cloud for its integrated connectivity, so users can access enterprise-grade infrastructure that benefits from Microsoft's significant investment.
Source: ABB