Thun Tankers announced on Friday (Sept 28) that the product/chemical tanker M/V Thun Venern was delivered during Thursday to the Erik Thun Group, on site at the Chinese shipyard AVIC Dingheng Shipbuilding Ltd.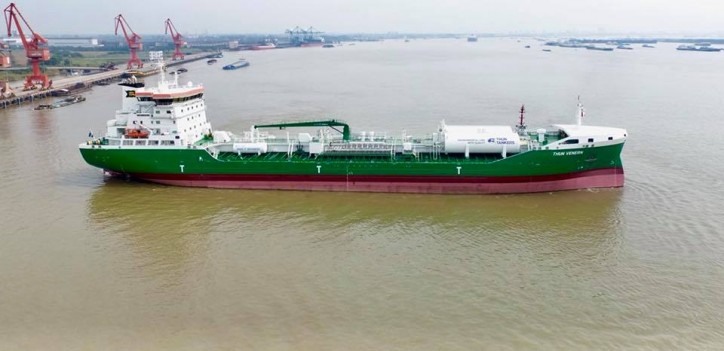 She is the third vessel being delivered in a series of six, all designed by FKAB together with Furetank Rederi AB. Special attention has been paid on minimal impact on the environment, with close to 50% reduction of CO2 emissions. This also includes full Tier III, dual fuel/LNG propulsion including LNG in port consumption, LNG for IG-boiler, battery backup (UPS) for all vital functions and special ballast water cleaning system and Ice class 1A.
M/V Thun Venern is an intermediate tanker with a dwt of almost 18,000 tons and LOA 149.9 meters. She will be commercially managed by Furetank Chartering, which is part of the Gothia Tanker Alliance.
Source: Thun Tankers