Qatar has decided to help Egypt by sending a tanker transporting LNG. The donation is the first shipment of five for the country that is having problems to meet its energy needs.

Egypt has political problems and that have significant impact on fuel crisis. Egyptian port facilities are not ready to import Liquified Natural Gas, but more donations will allow local reserves to be used for domestic market.
Weeks ago was decided the shipments to be signed over to the foreign partners in Egyptian export plants.

The LNG tanker Al Mafyar owned by Qatar Gas Transport Company (Nakilat) left the country and currently is going to Egypt. The capacity of the vessel is 260,000-cubic meters, usual destination of the tanker is Europe.
These shipments are very important for Egypt because this time of the year energy consumption is rising and frequent power cuts are something usual.

Qatar will not stop sending LNG shipments to Egypt this summer as was promised 3 months ago by the Qatari prime minister Sheikh Hamad bin Jassim al-Thani.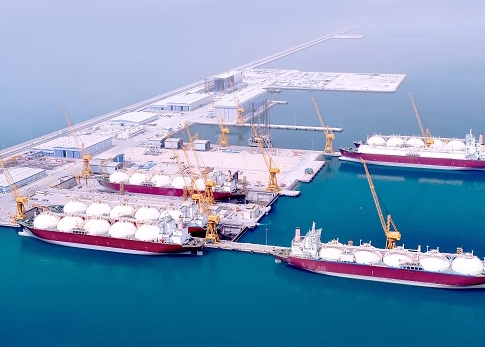 Ship Name : AL MAFYAR
Type : Tanker (HAZ-A)
Size : 354 x 53 m
Dest : EUROPE
MMSI : 538003357
Flag : Marshall Islands
Call Sign : V7QG5
Draught : 10.2 m
IMO : 9397315
Qatar Gas Transport Company (Nakilat) - liquefied natural gas (LNG) shipping company based in Doha, Qatar.