Cooperation between shipbuilding company Rauma Marine Constructions (RMC) and Meyer Turku, at Turku shipyard, is expanding with the addition of a new ship block order. The newest order brings the total of ship blocks built at Rauma shipyard to eight. The additional order comes at a good time for RMC, whose first newbuild, a car and passenger ferry ordered by Molslinjen, began operating in Denmark during September.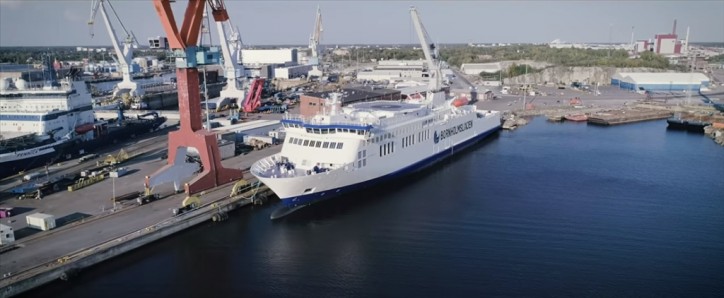 At the beginning of the summer, the cooperation between RMC and Meyer Turku was announced with the news that Meyer Turku had placed an order from RMC for two blocks for the hull of the cruise ship Costa Smeralda (see also CruiseMapper). The cooperation has since been extended, with RMC and Meyer having signed additional contracts for multiple additional blocks. In addition to the two blocks that have already been delivered to Meyer, two blocks are currently being built at the shipyard and contracts for four new blocks have been signed.
"The additional orders are an indication of our successful cooperation with Meyer. The building of these ship blocks will continue late into spring 2019. The cooperation ensures the base load of the ship block factory and also provides valuable experience for future projects," says Jyrki Heinimaa, CEO, Rauma Marine Constructions.
The Costa Smeralda cruise ship will be delivered by Meyer to the owner in autumn 2019.
RMC's firstborn begins operating in Denmark
Meyer's ship block order comes at a good time for RMC, with the recent general overhaul of Finnish Environment Institute's (SYKE) research vessel Aranda, and RMC's first newbuilding vessel having been completed at the end of the summer. The newbuild, a car and passenger ferry named Hammershus, and built for Molslinjen, began operating in Denmark in September. Hammershus bears a specific significance for RMC, it being the company's first newbuild vessel.
Over 250 workers were involved in the building process of the 158-meter long and 23.5-meter wide ferry and its impact on employment has totaled around 1,000 person-years. The vessel's passenger capacity is 720 people, along with 20 crew members.
The car and passenger ferry can travel up to 17.7 knots. It runs on sulphur-free fuel and consumes less fuel compared to previous vessels. This was made possible by the fuel-efficient Wärtsilä main engines, as well as the shape of the hull. In addition, the vessel complies with all current and upcoming environmental regulations.
Watch a video of RMC's first newbuild vessel:
Source: RMC